Among the most picturesque territories of our peninsula, we can certainly mention the Langhe and Monferrato, two sub-regions of Piedmont that have been included, since 2014, in the list of World Heritage Sites by UNESCO.
The breathtaking territory of the Langhe and Monferrato
Vast expanses of greenery alternate with numerous and dense vineyards and orchards: this is how the landscape of the Langhe and Monferrato, the two sub-regions of Piedmont that embrace the provinces of Alessandria, Asti and Cuneo.
The territory is predominantly hilly, with a sinuous course that gives almost the impression of being among desert dunes.
But what are the main attractions of the Langhe and Monferrato? What can we do, drink and – above all – taste during a trip to these lands? Follow me, we will discover it together!
The main cities to visit in the Langhe and Monferrato
Let's start from the main cities to visit. Without prejudice to the fact that the entire territory that is embraced by the Langhe and Monferrato is worthy to be seen and explored in detail, the most famous places of interest are undoubtedly the cities of :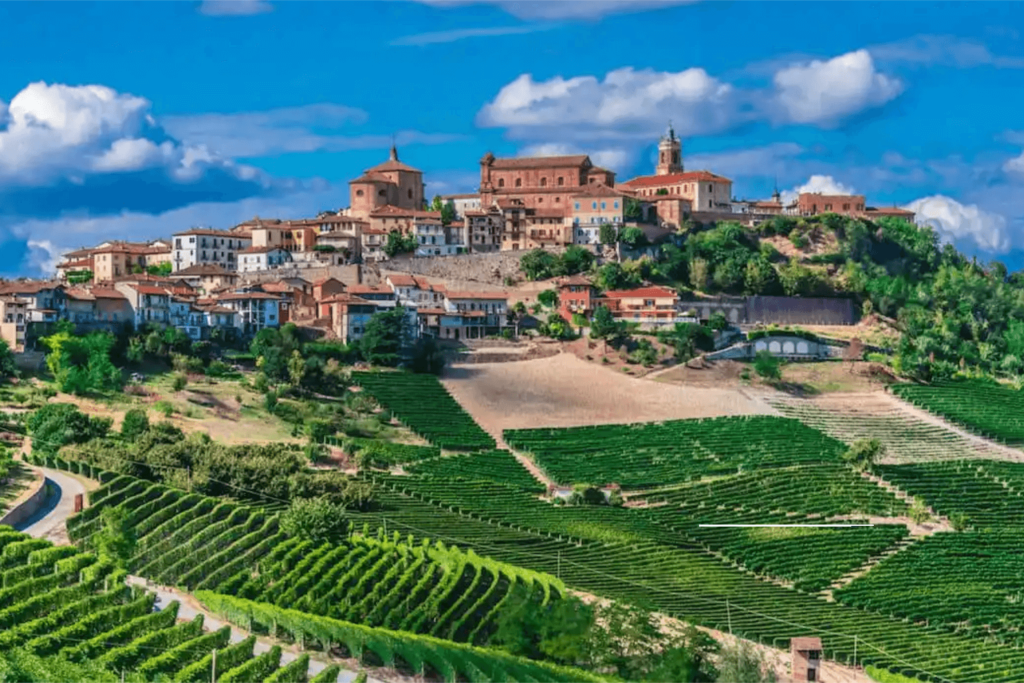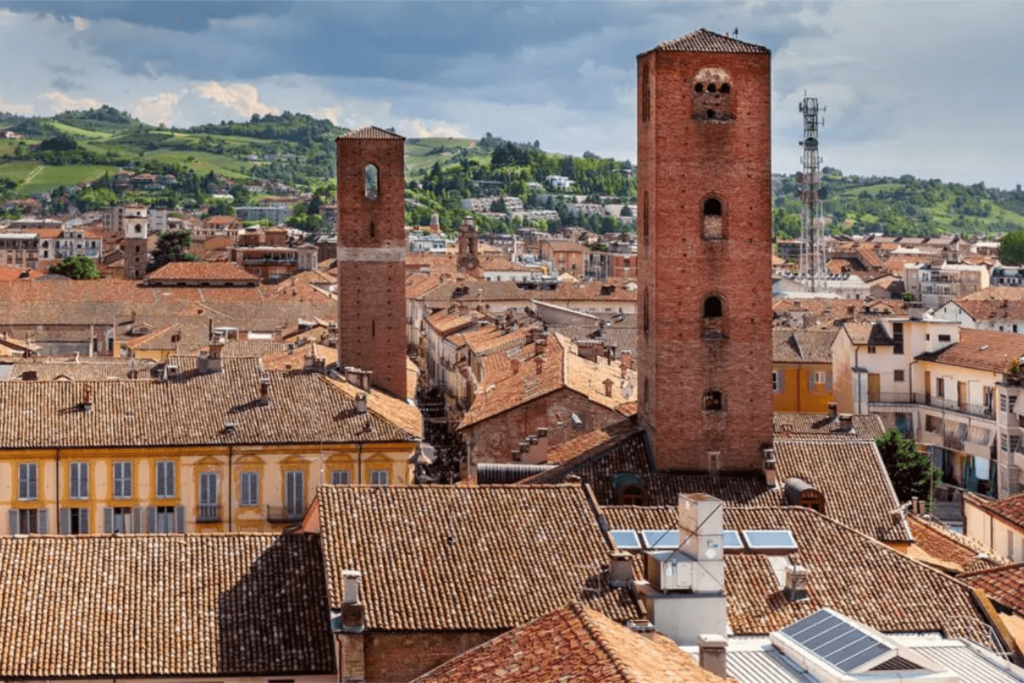 Each of these cities reflects some of the unique characteristics of the region, distinguishing itself for the food and wine tradition and for the uniqueness of its territory. Visiting one of these cities cannot be separated from getting in close contact with the local territory, visiting the main productive activities – mainly wine – that make this region a real jewel of northern Italy.
The wine and the typical local vineyards
The territory of Langhe and Monferrato is characterized by the presence of numerous and lush vineyards, in which are produced excellences such as Brachetto, Asti sparkling wine, Moscato, Dolcetto d'Acqui, Nebbiolo and Barolo.
The presence of many types of vines, in fact, has made this area of wine production one of its most important workhorses. The most common grape variety is in fact Moscato Bianco, from which are obtained both the Asti sparkling wine, DOCG wine for the end of a meal, and different types of Passito.
Typical of Alto Monferrato, however, is the Brachetto grape with which, in the area of Acqui Terme, is produced the typical sweet ruby red wine excellent to match with a dessert. In the hills of La Morra, finally, the most common grape variety is Nebbiolo, from which is obtained the famous Barolo red wine, which, with its peculiar organoleptic characteristics, accompanies many dishes of the Piedmontese tradition.
Cosa assaggiare assolutamente nelle Langhe e nel Monferrato
Ma veniamo al dunque. Cosa possiamo mangiare nelle Langhe e nel Monferrato? I modi per deliziare i palati anche più raffinati ed esigenti non sono un mistero, da queste parti. Qualsiasi alimento o piatto della tradizione enogastronomica locale rispecchia e riflette tutte le caratteristiche del territorio, portando in tavola non solo sapori spaziali ma delle vere e proprie prelibatezze.
Nel territorio delle Langhe e del Monferrato troviamo sicuramente la bagna cauda, un tradizionale piatto povero molto saporito, a base di acciughe sotto sale, burro, olio e tanto aglio in cui vengono intinte le verdure tipiche della zona (cardo gobbo, cardo d'avorio, peperone quadrato, topinambur, rape, patate).
Diversi tipi di formaggi, tra cui la Robiola e la Toma piemontese; piatti a base di cacciagione, come il sugo di lepre, o carne brasata con il barolo. Ancora, la carne all'albese, un carpaccio di carne cruda, o il vitello tonnato, dove l'accostamento della tenera carne di vitello con la salsa tonnata rapirà i cuori anche dei più scettici.Altro protagonista indiscusso del territorio è il tartufo, specie quello bianco di Alba, che viene accostato a diversi piatti e spesso abbinato a funghi locali.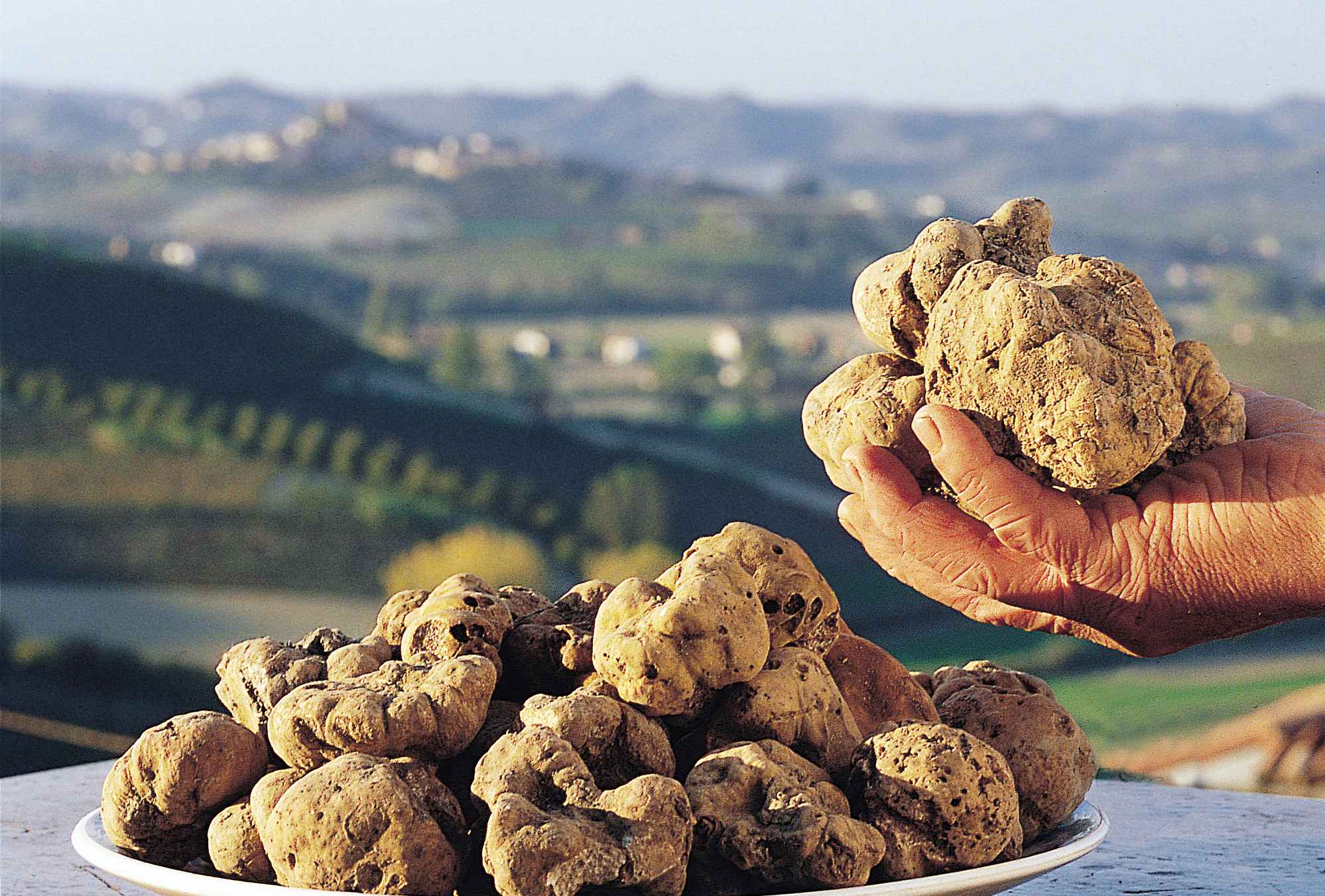 Finally, an immense variety of desserts such as amaretti, the Piedmontese hazelnut cake IGP – typical food of the Langhe, which is grown in the less exposed slopes of the hills – zabaione with muscat or peaches with red wine.
Activities not to be missed in the hills of the Langhe and Monferrato
In addition to the countless activities that can be carried out from the point of view of food and wine, the territory of Langhe and Monferrato lends itself to many outdoor activities that allow you to be in close contact with nature.
Among these, for the bravest we definitely suggest the paragliding, to enjoy a breathtaking view of the immense expanse of green hills below, but also a nice ride in hot air balloon – Maybe at dawn – to enjoy with your eyes the colors with which you dye the landscape.
For those who do not love the altitudes, do not worry, there are many other activities to do in the Langhe and Monferrato, such as a romantic Vespa tour or an off-road tour with quads, more rural and adventurous.
Cover Image: Welcome Langhe Roero