Thanks to its enveloping flavor, honey in Italian cuisine is used in combination with many foods both sweet and savory. One of the classic pairings is the one with cheese because the latter is a sugar-free food that contrasts with the sweetness of honey. Honey, however, can also be combined with fresh fruit and dried fruit, or inserted into cakes and infusions to give more aroma and sweetness.
Are all honeys equal?
The honey is a complex mixture whose main elements are: simple sugars (glucose and fructose), water, minerals (calcium, iron, magnesium, copper, manganese, silicon, potassium, iodine, sodium, phosphorus)vitamins (A, group B, C, E, K), organic acids, phenols, flavonoids and enzymes.
The proportions of these substances may vary, even of great importance, in relation to the composition of the nectar or honeydew from which the honey derives, that is to say, its botanical origin and the place of origin. The type of final product changes not only according to the nectar, but also according to thepropolis, a substance that comes from the combination of bee proteins and tree resin and that is used for the protection of the hive. For such factors , the various types of honey can never be identical both in composition and in terms of organoleptic profile and beneficial properties.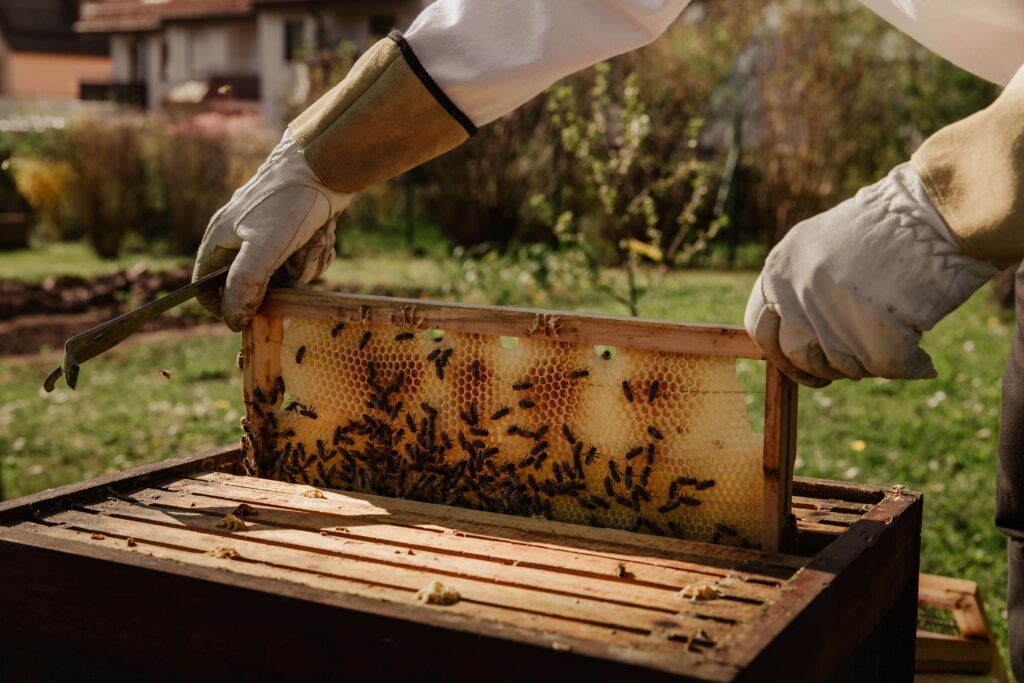 The benefits of the many types of honey Made in Italy
There are many types of honeys existing in Italy, each with specific characteristics and tastes. Among the most common are:
The honey of Acacia
It derives from Robinia, a plant widespread in Piedmont, Lombardy, Veneto e Tuscany. This product has a liquid consistency that tends not to crystallize and retains a neutral flavor with a note of vanilla and powdered sugar. It is used to reduce inflammation (especially those in the throat), to counteract digestive pathologies and to unlock the intestine, relying on its slight laxative effect.
The honey of Millefiori
It has a mixed color ranging from white to amber and is subject to crystallization. Its main function is anti-inflammatory and energetic. This type of honey does not have a single place of production, but it can be produced both in the mountains and in hills e in the plain, where you can find flowers of various kinds. For this reason, depending on the area of collection, it can present some uniqueness at the level of flavor, scent and properties.
The honey of Linden
It has an amber color and is crystallized with fine granulation. Its flavor is sweet and fresh, with a scent of medicinal herbs. It has a calming effect and is often used to relieve menstrual pain. It has a digestive action , and has diuretic effects. Il lime honey, in Italy, is typically produced in the Alps and along the Apennines.
The honey of Eucalyptus
It has an amber color tending to red and is in the liquid state. It has a antibiotic action , and relieves the feeling of discomfort caused by coughing. The most abundant productions come from the Tuscan Maremma, from the Lazio e from the Sardegna.
The honey of Chestnut
It has a dark color with reddish hue that is presented in the liquid state. It has the function of promoting blood circulation, acts as urinary tract disinfectant and is a antispasmodic. Viene prodotto nel periodo compreso tra la fine di giugno e la prima parte di luglio. It is produced in all of Italy, from Alps to Sicily, in medium mountain areas (from 400 to 1200 mt).
The honey of Strawberry tree
It has the characteristic of being bitter. Its production is possible only in areas rich in strawberry trees, such as the Sardinia and some areas of Toscana e Corsica; a limited production is also a Monte Conero, nelle Marche. This honey is one of the most renowned Sardinian specialties and of which there are references already in Roman times.
Honey Citrus
Produced only in regions where citrus fruits are widely cultivated: Basilicata, Calabria, Campania, Lazio e Sicily and is obtained from orange, lemon, bergamot, tangerine, clementine, cedar and grapefruit. The honey of Orange has a straw yellow color and is in liquid form. This variant is excellent to use as a sedative because it counteracts the negative effects of nervous excitement and insomnia.
The honey of Lavender
It is characterized by a light amber color and is crystallized very fine. It is used againstinsomnia, as analgesic and digestive. It is mainly produced in Sardinia and, occasionally, in other Tyrrhenian areas (Elba Island). A production of lavender honey angustifolia o vera è possible in some areas of the Maritime Alps, between Liguria Piemontestrong.
The honey of Sunflower
It has a bright yellow color and is subject to crystallization. It is used as a calming cough and the production area is concentrated in Campania.
The honey of Rosemary
It is a honey of ancient tradition because the ancient Romans used it to sweeten the wine and produced large quantities. Today it is typical of the Apulia e della Sardinia, for example of the Gargano and is characterized by the scent and aroma floral and fragrant.
Storage
Thanks to the qualities of natural antibacterial, honey is a food that naturally has a long shelf life. However, some alterations are possible mainly due to humidity, light and heat.
Moisture promotes fermentation, which while altering honey, can be used to produce mead. The high temperature instead directly affects the aromatherapy, and the nutritional principles and direct light tends to deteriorate the organoleptic qualities of the product. For these reasons, it is advisable to store the honey at cool temperatures and in dark containers or indoors. In addition, being hygroscopic, honey tends to absorb moisture and odors of the environment, so the containers should be hermetically sealed.
Contraindications
Anyone suffering from diabetes, obesity or hypertriglyceridemia should consult their doctor before taking honey, thus avoiding any risks related to excess sugar. In order to prevent the risks of botulism, it is not recommended in children under one year of age. Furthermore, honey can trigger allergies and is a food that promotes the dental caries.
Cover Immage: Food Blog