In Italy, even during the summer, the concept of "eating on the fly" is not so widespread. But what to cook during the hot summer days? Here is 10 Typical summer dishes full of taste and freshness!
Typical Italian recipes ideal as a first course
Here is a list of summer pasta dishes , fresh and fast, ideal as a first course but also as a unique meal if you want to stay lighter.
Eggplant Parmigiana
Let's start with the most elaborate of the typical Italian recipes ideal for early summer: eggplant parmigiana. It is a evergreen of Italian cuisine, of Sicilian origin: eggplants are fried and then cooked in the oven together with tomato and mozzarella. Certainly more challenging to prepare than the others but really delicious.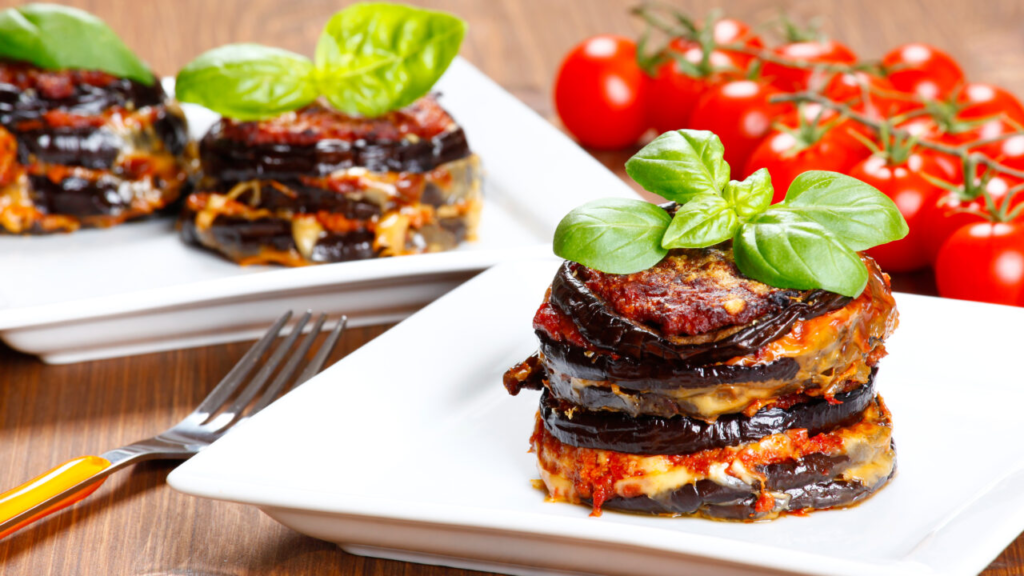 Rice salad
Good, fresh and customizable: once cooked rice you can season it with vegetables, fish, meat, or pickles. And for a more delicious and perfect version for the little ones, you can add small pieces of sausage to your rice salad.
Cold pasta
Like rice salad, cold pasta is part of the typical Italian recipes perfect to take with you as a packed lunch, in the office or on the beach. It is usually seasoned with vegetables and pickles but you can also enrich it with cherry tomatoes, tuna and olives. Or, why not, with pesto and cherry tomatoes. Again, free rein to your culinary creativity!
The Panzanella
One of the oldest typical Italian recipes, very simple and really tasty. The panzanella, in the Tuscan tradition, is composed of stale bread wet and cut into small pieces, cucumbers, red onion of Tropea, tomato, basil, salt, vinegar, pepper and olive oil. The variant of Lazio, however, wants the stale bread to be in the form of bruschetta, covered with all the ingredients to which are often added anchovies and capers.
Typical Italian recipes for summer main courses and fast
They can follow the first, for a more hearty meal or be a main course if you want to stay light or if you have little time.
Tomatoes with rice
Son of the Lazio region, this delicious dish is perfect to follow a first light or as a main course. The large red tomatoes are emptied, stuffed with rice and tomato pulp and baked with potatoes: a mouth-watering recipe!
The Caprese
As simple as it is loved, the caprese is perfect for eating a healthy and delicious dish even if you have little time available. Tomatoes, mozzarella and aromatic herbs such as oregano and basil, a pinch of salt and olive oil for seasoning: the caprese is ready!
Typical Italian recipes for fast and delicious meals
Is it hot, time is short and hunger is advancing? Here are some typical Italian recipes quick to prepare for the summer and really appetizing!
Friselle with cherry tomatoes
Historical and famous recipe in Puglia and Campania, now belongs a bit to the whole boot. Typically durum wheat but also whole wheat, friselle are softened with water and then seasoned with cherry tomatoes, basil, a little oil and a pinch of salt. For those who prefer it, together with the tomatoes you can add mozzarella and tuna.
The Aquasalt
The ancient meal of fishermen and farmers, acquasale is a simple recipe that is part of the Italian tradition. To prepare it just have stale bread to soften in water, to which add onion and tomatoes. Finally, season with salt, oil and oregano.
Pane cunzatu
Durum wheat flour bread, tomato, olive oil, salt and oregano: these are the necessary ingredients to prepare the pane cunzatu. The peculiarity of this recipe is that the bread is opened horizontally and stuffed like a cake. To make it even more appetizing, you can add olives, cheese and sardines.
Typical Italian recipes for summer desserts: tiramisu
If we are talking about fresh summer cakes, it is impossible not to think about the king of summer sweets: the tiramisu! Famous all over the world and revisited in many ways, it is a sweet loved by most. The classic recipe involves the use of coffee, ladyfingers and mascarpone: the ideal to conclude your summer dinners in sweetness!