Among the fruits mainly produced in Italy, certainly the Tarot oranges cultivated especially in Sicily and exported all over the world stand out.
In addition to being rich in nutrients, these citrus fruits are used to prepare many excellent recipes and also as a ingredient to create products of various tipo as the candles.
One of the main characteristics for which they differ from the other varieties is given by the yellow-orange skin color with red shades. The tarot cards are red oranges that stand out not only for their quality, but also for their aesthetic beauty and aroma.
Tarot oranges: why they are different from other qualities
Curious to understand first of all why the delicious red oranges are called tarocco. No doubt these citrus fruits can be recognized at first sight not only for the yellow-orange color and red nuances of the skin, but also for its pulp that has a large number of streaks. Another characteristic is represented by the roundish and ovoid shape with a thin skin thickness, as well as a high concentration of antiocyanins (antioxidants).
The cultivation of the arance tarocco, also comes from a variety called sanguinello and its maturation begins at the end of December and ends a few months later. The harvest period begins in the last month of the year and lasts until February, but on the market we also find them until late spring.
The benefits of tarot oranges
The tarot is a type of orange rich in vitamin C, an excellent ally of the immune system, which helps fight seasonal ailments, free of fat and cholesterol. In addition, it is a light fruit that has the so-called citrates useful in preventing kidney stones.
Tarot oranges: excellent ingredient in the kitchen and not only
L'orange tarocco lends itself in the kitchen to the preparation of excellent desserts, sorbets and ice creams, thanks to its particularly pleasant flavor and scent. Think of the delicious marmalade of oranges , which can be prepared at home without much difficulty.
How to prepare orange marmalade
The ingredients to be used to prepare 3 jars of 200 grams each are:
2 kg of tarot oranges
1.2 Kg of sugar
2 lemons
The citrus fruits are left to soak in water for 12 hours to 3 days, after having pitted them all over the surface. After this period they are peeled, sliced and placed in a saucepan with sugar, lemon juice and peels. Cook the mixture for about 1 hour until it thickens, then eliminating both the white filaments and the lemon peel. Finally, it is passed and the still hot jam is inserted into the jars, letting it cool upside down.
The recipe of candied orange
Another delight to prepare with red citrus is thecandied orange. They only serve:
Once the peel is cut into strips, to eliminate the bitter aftertaste, simply leave them to soak in water for more than a day or boil them two or three times. Then put them in a saucepan, adding water and sugar according to the amount you want to prepare and let them boil for about 15 minutes and then let them cool for at least 1 hour.
Do not forget that tarot oranges together with other qualities are perfectly suited to be used also in the preparation of scented candles, particularly suitable to adorn the rooms, but also used in aromatherapy.
Catania, Enna and Syracuse queens of the orange tarot
The arance rosse of Sicily, more commonly called tarocco, are cultivated in a particular way between the provinces of Catania, Syracuse and Enna. These are three beautiful cities that have a lot to tell.
Starting with Catania, whose origins date back to the Greeks, every single building and monument tells the story of the Duomo, the Achillian Baths, Porta Uzeda and the Ursino Castle.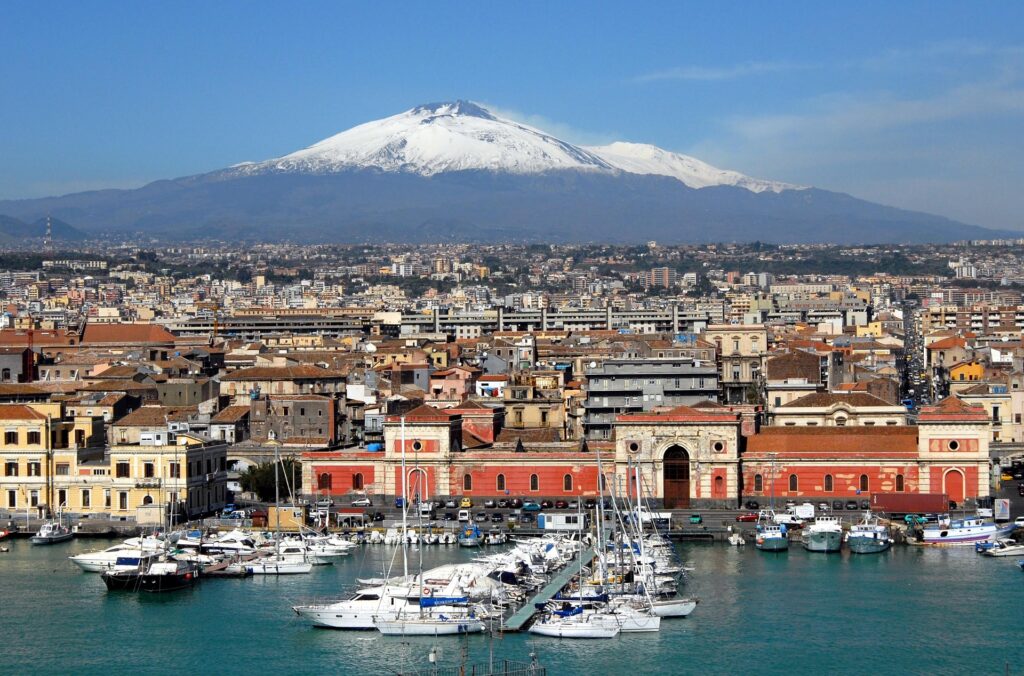 Then there is Enna, another beautiful city, where in addition to admiring many fascinating places, you can not miss a stop at Lake Pergusa, the only natural lake left in Sicily.
And finally Syracuse with its Ortigia Island that represents the old city connected by a bridge to the city center. Here there are many attractions, but surely you can not miss a day of sun and sea surrounded by the natural beauty that the territory offers.
Immagine copertina: