Street food has conquered even the beautiful city of Bologna, that through street food enables its visitors to know deeply the most ancient traditions, in addition to the historical and artistic beauties. Bologna's Street Food has something for everybody, eating well and cheap. It is not a surprise that Bologna is usually referred to as godereccio (pleasure-loving) and among its many sources of pride it counts good street food, from tortellini to the delicious piadine, from fried seafood to desserts. By now it has become a well-established trend, especially when you can enjoy local delicacies whilst taking a walk under the beautiful porticoes all around town.
Let us start our trip at the discovery of Bologna's most beautiful places, through its most popular dishes loved all around the world.

Street Food in Bologna between art and tortellini 
The pasta alla bolognese is certainly among the best and most coveted pastas, think of the typical tortellini and tagliatelle that you can enjoy on the go during a short a stop in one of Bologna's typical inns and served in bio-compostable containers. 
But that is not is, because just a few steps away from the Two Towers (le due torri), symbol of the city, you must try the delicious piadine filled with cold cuts and cheese, and what about the delicious fried food cones loved even by children. What is better than to enjoy some good food after a visit to the famous Torre degli Asinelli? 
We are talking about the highest medieval leaning tower in the world, named after the Asinelli family. There is also a smaller tower, the Garisenda, and from high up you can enjoy a breath-taking landscape. The step to get to the top are 498, but it is absolutely worth it.  
Street Food in Bologna: what to visit in the city of food 
There are a lot of tourists that go to the beautiful Emilian town, not only to visit beautiful places with great historical and artistic background, but also to eat fine food. And through Bologna's Street Food you get to enjoy the most traditional flavors whilst enjoying the most beautiful sites. 
To try the best delicacies, it is preferable to walk the streets of the city centre or go by bike or even reach the outskirts and stop among the booths of the Mercato di Mezzo, not far from Piazza Maggiore, where you can enjoy tastyaperitifs and find out all the secrets of the so-called fat and learned city.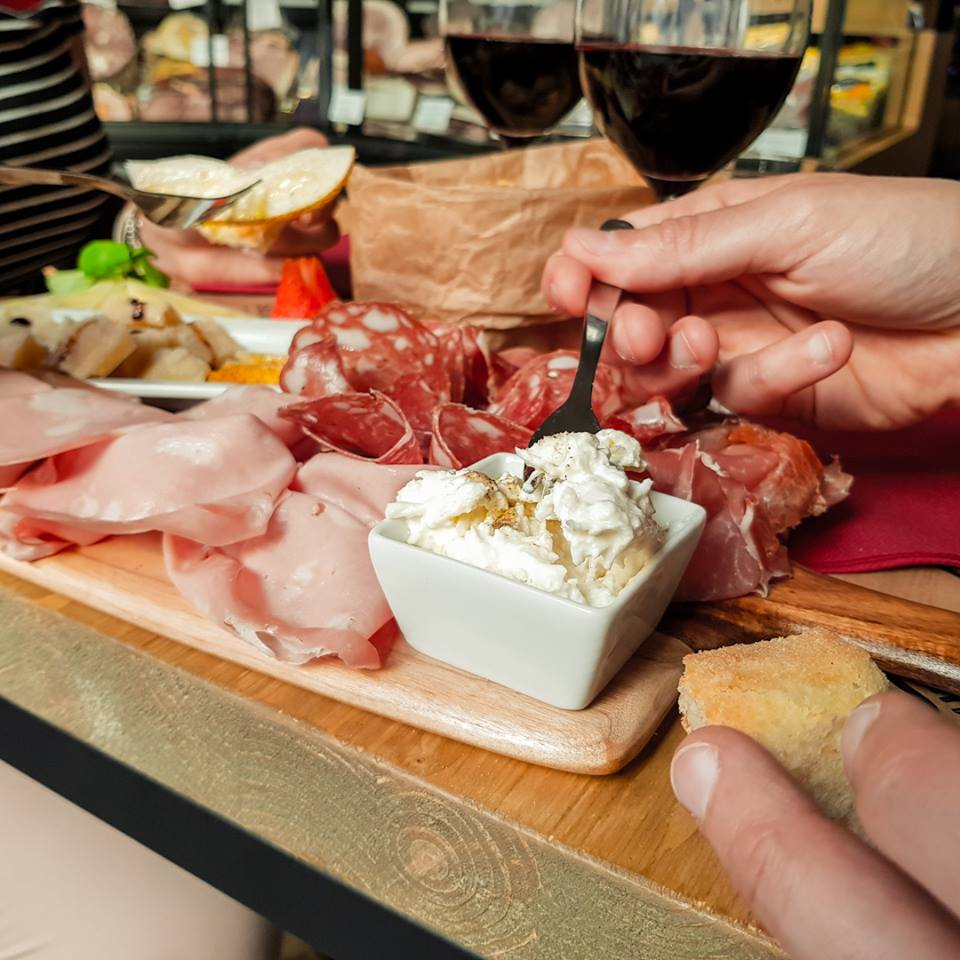 After having admired the Basilica of St Petronius and the Archaeological Museum, you cannot miss a taste of the sweet delicacies such as rice cake, stuffed pinza or tagliatelle pizza, ideal for a rich breakfast or snack according Bologna's old traditions. 
For shopping lovers, a stop in Via dell'Indipendenza is a must, it has many shops and apparel stores and lots more, so why not take a walk while tasting a nice snack such as the rosetta bread with mortadella IGP di Bologna or other high quality cold cuts. 
Going back to Piazza Maggiore, the hall of the city, it is possible to admire some important historical palaces such as Palazzo d'Accusio, Palazzo dei Banchi and Palazzo del Podestà. In this place there are many gastronomic hangouts where to enjoy other specialties from Emila Romagna, starting with lesso con mostarda and other typical sauces and piadine for every taste or delicious tigelle. 
Street Food in Bologna and the Fabbrica Italiana Contadina
Some time ago it was launched in Bologna the Fabbrica Italiana Contadina (Fico), a theme park dedicated to the world of food and a go-to place for food lovers. Inside there are agricultural areas, farms transformation labs, thematic food courts and street food. 
Other than Bologna's Street Food, with this great project they are betting on Italy's food and wine excellence, from product harvesting to serving it on the table.


Cover Image: puntarellarossa