Lake Maggiore is one of the most enchanting places in all of Italy: located in the splendid setting of the Alps, it is a pearl both for its naturalistic, historical and cultural wealth. A popular destination for many, Lake Maggiore, also called Verbano, borders Switzerland, Varese in Lombardy and the provinces of Verbano-Cusio-Ossola and Novara in Piedmont.
Lake Maggiore: beaches and excursions
Lake Maggiore is certainly one of the most beautiful Italian lakes to visit: surrounded by nature it is perfect for spending your holidays in an uncontaminated place. The lake's climate is particularly mild and is surrounded by magnificent gardens, villas and castles as well as by small enchanting islands to visit.
Lake Maggiore is perfect for a solo holiday or with children: there are in fact several equipped or free beaches including the Sesto Calende beach characterized by sand, gravel and lawn or the Angera beach, also in this case with sand and gravel or lawn. The latter is also perfect if there are four-legged friends with you on vacation.
Another enchanting and sandy beach is that of Cannero Riviera, located in a natural inlet: also accessible to the disabled in wheelchairs or to parents with strollers, it has been nominated and reconfirmed "blue flag". The seabed is particularly shallow and a few meters away is a playground equipped for children and a green park for relaxing moments.
For those who prefer pebbles, the Cinque Arcate beach is recommended, one of the most beautiful where there is also a convenient free parking. In all cases, the rescue service is guaranteed every year on most beaches, so you can enjoy a nice swim in total safety.
For a sporting holiday and for nature lovers, there are several itineraries that can be followed for trekking on Lake Maggiore: one of these starts from the village of Cerro and crosses the Campo dei Fiori Regional Park. Suitable for everyone, it is a circular route in which you almost entirely cross the forest. An alternative is the Sentiero delle Fornaci in Ispra: a 5-kilometer-long loop, recommended for the more experienced due to the steep slopes, but with panoramic landscapes both on the woods and on the lake.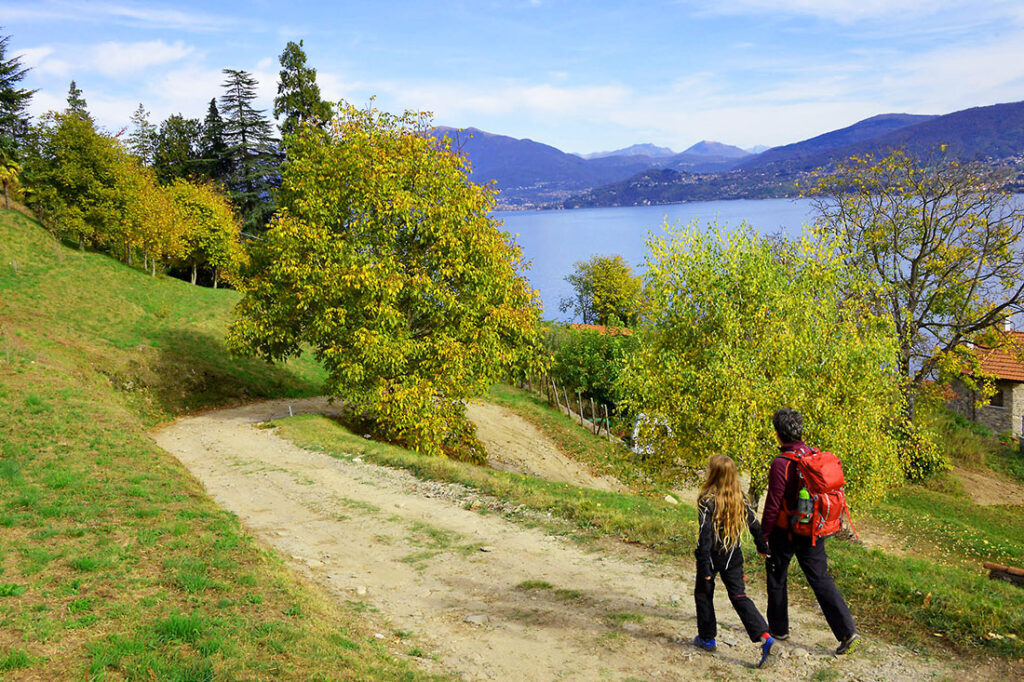 In addition, among the activities loved by the bravest there are certainly wakeboarding, paragliding and zipline on Lake Maggiore: these last two experiences could be an opportunity to see the splendid mountain views from above and admire them in a different way than usual!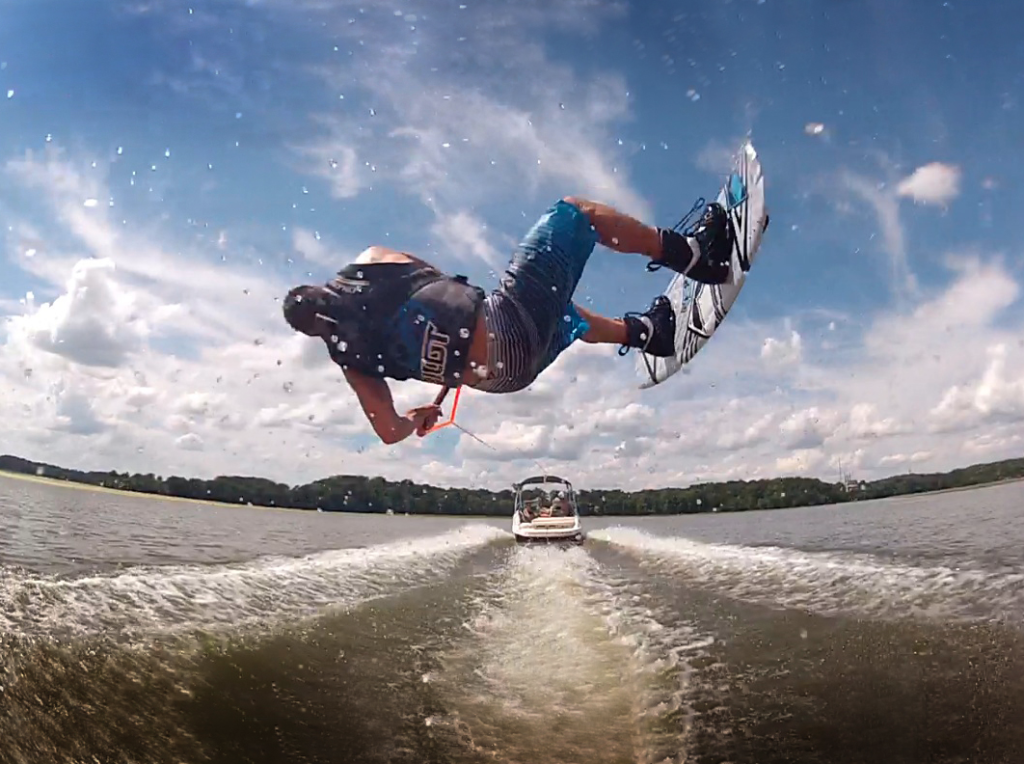 For those who prefer less adrenaline-pumping experiences or for the little ones, horseback riding immersed in nature or paintball game sessions are organized!
Lake Maggiore: what to visit in the surroundings
As mentioned before, Lake Maggiore borders both Switzerland and Italy: the area where there are certainly more touristy places to visit and the main attractions are on the Piedmont side. In particular Stresa, Verbania, Cannero Riviera, Cannobio, Belgirate and Baveno: however, if you also want to visit the Lombard and Swiss sides, it is good to know that these are easily accessible by public transport including trains and ferries.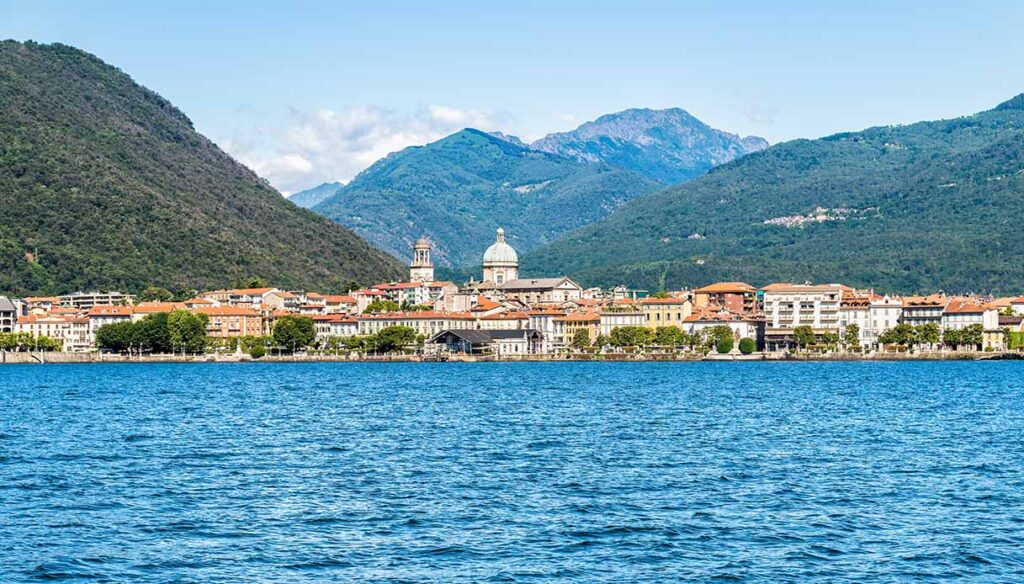 On the Piedmont side, one of the most beautiful places to visit is Stresa: it is a small and elegant town on the western side of Lake Maggiore, characterized by a beautiful historic center, elegant villas dating back to the Belle Epoque period and the splendid park of Villa Pallavicino, where there is the famous botanical garden and various animals including goats, zebras and peacocks as well as a playground for children, therefore an ideal place for families.
Alternatively, it is possible to visit Verbania, on the northern shore of Lake Maggiore: characterized by many gardens and terraces, one of the major tourist attractions is the baroque-style Villa San Remigio or the botanical gardens of Villa Taranto which house rare botanical collections. Verbania is also famous for its restaurants: among the typical dishes to taste there are certainly the Mortadella Ossolana, the goat violin from the Vigezzo Valley, the dried meat, the Moccetta and the Bisecon.
For music and cinema lovers, it is definitely recommended to visit Ascona: it is located on the north eastern shore of Lake Maggiore on the border with Switzerland and is a small town famous for the jazz musical festival, the JazzAscona and the Ascona film festival.
To better organize your holiday on Lake Maggiore, we also advise you to stay on the Piedmontese side and in general on the southern coast: here you will find most of the tourist villages but also b&bs and cheap hotels, as well as several campsites for the more adventurous!
Featured Image: Camping Lago Maggiore