Magical atmosphere and past between history and legend: Island of San Giulio hosts a border with almost otherworldly charm. Let's find out more.
L'The island of San Giulio is far from the traditional idea of an island where beaches, sea and fun are the masters. It is a mystical place worth visiting.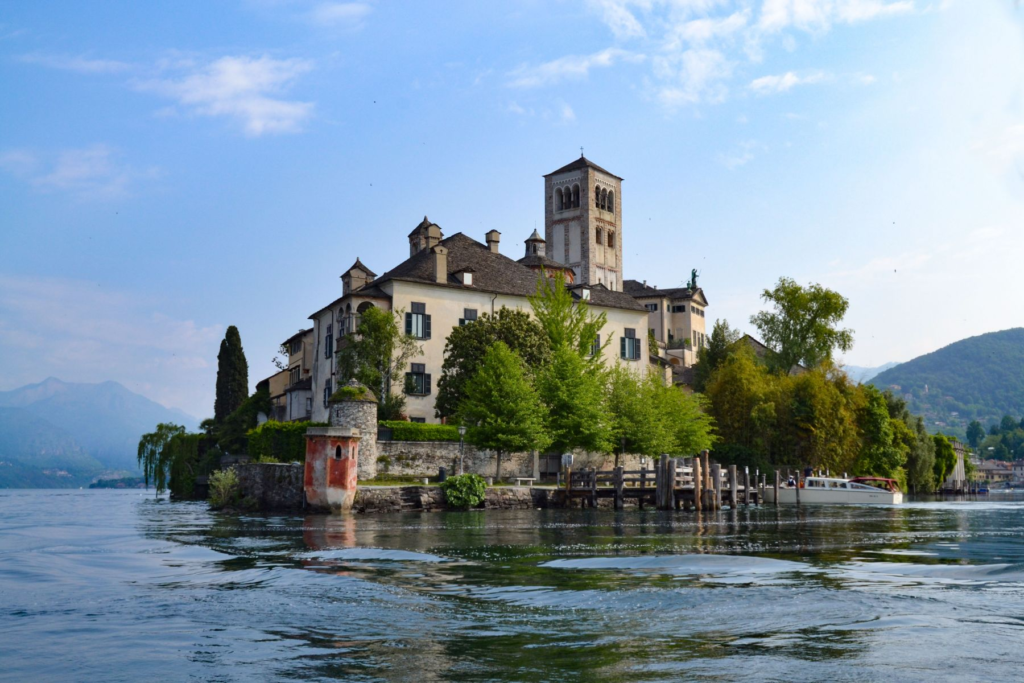 The beautiful island pops up in Lake Orta in front and not far from the shore of Orta San Giulio, a medieval village in the province of Novara of equal charm and accessible by car, train and bus.
Orta San Giulio has a unique appearance given by palaces, gardens and residences in Renaissance and/or Baroque style. Some examples? Palazzo della Comunità, Villa Crespi and Villa Perone.
Looking towards the Lake Orta you can see theIsland of San Giulio with its Romanesque basilica, the Benedictine abbey and the bishop's palace. How to reach the Island of San Giulio? Where take the boat to the Island of San Giulio? You can take a motorboat and a ferry from the square of Orta.
Orta San Giulio: What to see
The Comune of Orta San Giulio is a medieval border characterized by narrow alleys and squares in the Venetian campiello style.
Among the unmissable places there is the Church of the Maria Assunta characterized by a large staircase that leads to the main square (Piazza Motta) and a row of houses decorated with frescoes. Inside the square is the Palazzo della Comunità and two streets, one leading to the Moccarolo and the other leading to the Villa.
From Piazza Motta you can take a small road that leads to the Sacred Mount of Orta, a place of worship located on the promontory that runs along the lake.
Beach on the banks of Orta San Giulio
The Lake Orta boasts a wonderful landscape, but its crystal clear waters become a source of refreshment in summer.
Along the banks of the edge there are bathing areas with sandy and/ or pebble beaches of free access: Zona Ortello, Zona Miami Trittico and Zona Bagnera. Each one is equipped with showers and a dining area.
A few meters from the center of Orta San Giulio there are also beaches equipped with umbrellas and sunbeds, pedal boats, lifeguard and kiosk bar.
Island of San Giulio: legend and what to see
The island of San Giulio seems to transport visitors to a distant time, that of myths and legends. It is no coincidence that the island had become a refuge for monsters and snakes, at least until Saint Julius arrived in 390 and decided to build a church and prepare a work of evangelization.
After the death of Saint Julius, some priests moved to the island to carry out his work. Over the centuries, however, it has become a strategic goal of the conquerors.
What to visit on the Island of San Giulio? The grand staircase leads to the basilica and continuing along the "Way of silence and meditation" you can walk around the island and get lost among buildings of architectural value and spirituality. This leads to the Bishops' Palace and the Benedictine Abbey where the cloistered nuns reside.
Orta San Giulio: hotels and other accommodations
To discover the beauties of Orta San Giulio andIsola di San Giulio you can choose various solutions: a hotel or a bed and breakfast if you want to stay in Orta San Giulio or a structure or a farm in the surrounding area.
Island of San Giulio e Orta San Giulio: restaurants and what to eat
Orta San Giulio and the Isola di San Giulio do not disappoint even from the point of view of food and wine, offering regional products and dishes.
The restaurants a Orta San Giulio are not many while there is only one restaurant on theIsola di San Giulio, but they offer suggestive settings and preparations made to perfection. It is no coincidence that there are several starred restaurants (at Orta San Giulio there is the restaurant of Cannavacciuolo).
Among the dishes not to be missed are the platter of local meats and cheeses, risotto with Barolo, agnolotti del plin, Piedmontese tajarin with meat sauce or truffle, trout in carpione and cod Piedmontese style.
To accompany the tasting there are red and white wines with unique characteristics such as Ghemme DOCG, Gattinara DOCG, Barbera DOC and Boca DOC.
Events
Orta San Giulio and theIsola di San Giulio host many events, from traditional festivals to festivals to food and wine festivals.
In January there is the patron feast in honor of San Giulio a Orta San Giulio while in June there is the Cusiano Festival of Ancient Music in Casa Tallone on the island of San Giulio. Do not miss the exhibition Ortafiori that embellishes Piazza della Motta with flowers and plants of all kinds.