Known as "the green heart of Italy", Umbria combines the beauty of nature with art, history and tradition, giving unique and unforgettable experiences. Located in the centre of Italy, Umbria is a region that enchants visitors with its natural beauty, rich cultural heritage and ancient traditions.
The Umbria in pills guide aims to explore what is beautiful in Umbria and discover what makes this region so unique and fascinating.
Foto – pixabay.com
Whether you are passionate about history, nature lovers or gourmets looking for Italian flavors, this land will conquer you with its authenticity and its timeless charm. Today we show you a region to discover, to live and to love.
Umbria, a dip in history and art 
Umbria boasts an ancient history, dating back to the Etruscan and Roman times. Its strategic location has made this region a crossroads of cultures and a center of trade. Cities such as Perugia, Assisi, Spoleto and Orvieto hold extraordinary testimonies of the past, with majestic buildings, churches and works of art.
Foto – pixabay.com
Every street, every square, every corner of these cities tells ancient stories of popes, poets and artists who have left a mark on Italian history and culture. Here are the most beautiful villages in Umbria: 
Assisi – With its mystical atmosphere and artistic treasures, it is an essential place for visitors to the "green heart of Italy". The Basilica of San Francesco, a masterpiece of medieval art UNESCO World Heritage, houses frescoes by Giotto and other masters, telling the life of the saint. Assisi is also famous for its Rocca Maggiore, an imposing fortress that offers a spectacular panoramic view of the city and the valley below. 
Perugia – It is a city that combines ancient traditions and modernity. The historic center of the regional capital is a maze of medieval streets, charming squares and historic buildings. The Fontana Maggiore, an icon of the city, is a magnificent example of medieval sculpture while the Palazzo dei Priori houses the National Gallery of Umbria, which houses works of art by artists such as Piero della Francesca and Beato Angelico. 
Orvieto – The majestic Cathedral of Orvieto is one of the architectural jewels of Umbria. Located on top of a tuff hill, the cathedral fascinates with its intricate Gothic details and its beautiful carved facades. The interior, decorated with frescoes and mosaics, leaves visitors breathless. You can not go away from Orvieto without also admiring the underground of the city, where you can discover the ancient caves and underground streets. 
Spoleto – Spoleto, framed by the mountains of the Umbria-Marche Apennines, is a city that offers a perfect fusion of history and natural beauty. Its most famous symbol is the Ponte delle Torri, an ancient building linked to the Roman aqueduct that dominates the valley below. The Roman Theatre and the Cathedral of Santa Maria Assunta are other places of great artistic and historical interest. You can not leave the city without visiting the famous Rocca Albornoziana, a fortress on the hill Sant'Elia that offers breathtaking views of the city and the surrounding countryside.
Gubbio – Cobbled streets and stone houses: Gubbio seems to come straight out of a medieval fairy tale. The city is known for the Palazzo dei Consoli, an imposing palace that houses the Civic Museum and the famous "Tavole Eugubine". Climbing to the top of Mount Ingino, you can admire the Basilica of Sant'Ubaldo, which houses the remains of the holy Bishop Eugubino. 
Unspoilt nature and beautiful Umbrian landscapes 
The roads that cross "the green heart of Italy" wind through fields of golden wheat, vineyards that stretch as far as the eye can see and lush olive groves. The Umbrian countryside offers a show of changing colors with the seasons, enchanting the eyes of those who travel.
Lake Trasimeno, the largest lake in central Italy, is surrounded by rolling hills and picturesque villages and offers enchanting scenery and a variety of outdoor activities. You can explore its shores by taking a boat trip or a walk.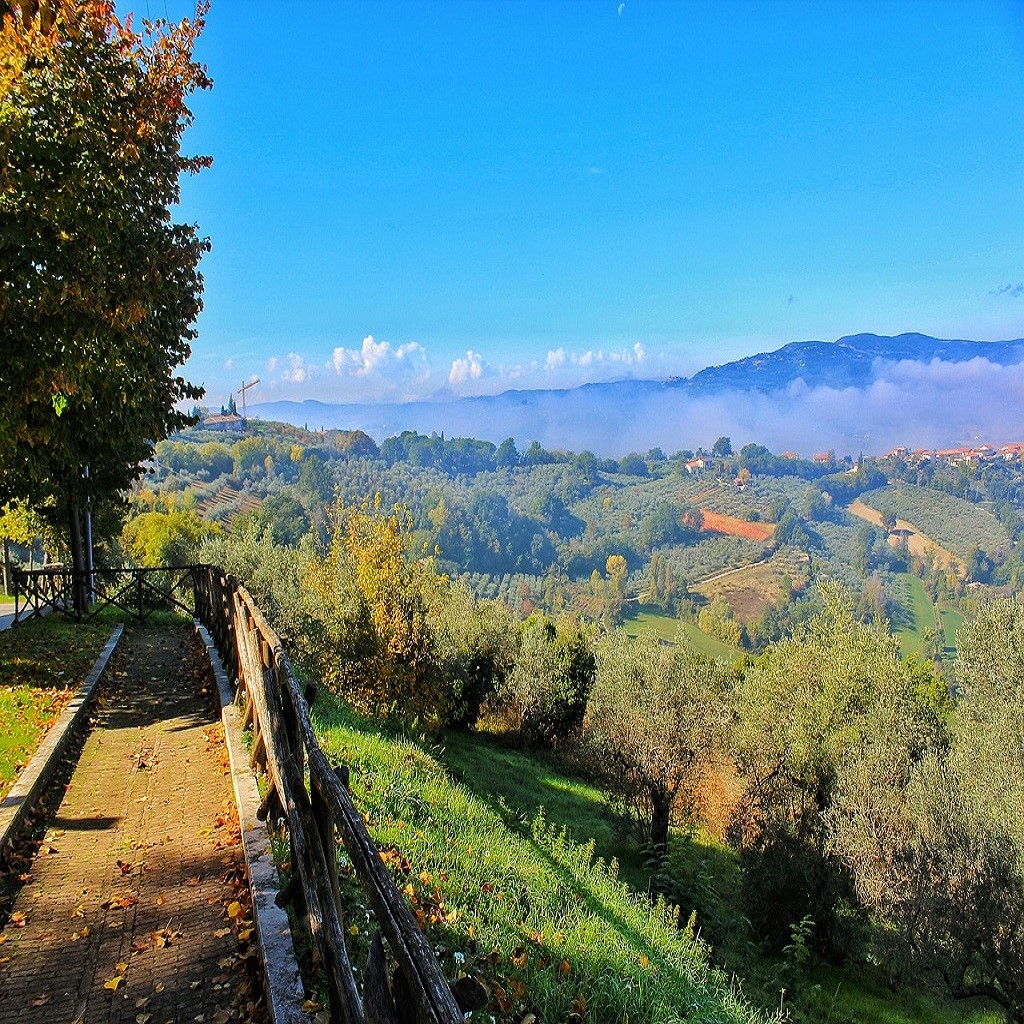 Foto – pixabay.com
The Marmore Falls are among the highest waterfalls in Europe thanks to its three sections and its remarkable height. Visitors can explore the paths around the waterfalls and admire them from different vantage points or take part in an adventurous rafting descent along the Nera River.
Valnerina, a valley located between the mountains of the Umbrian and Lazio Apennines, is a perfect place for hikers. Here you can find paths that wind through centuries-old woods, crystal clear streams and medieval villages. Enthusiasts can follow the route of the Elf Trail that leads through a fairy-tale landscape or they can explore the Nera River Park, a protected natural area rich in flora and fauna.
The Sagrantino Hills, in the Montefalco area, are famous for their vineyards that produce one of the finest wines of Umbria. This territory, with its rolling hills covered with rows of vines, offers spectacular views and a feeling of peace and tranquility.
Finally, located near Assisi, the Natural Park of Mount Subasio is a protected area that offers an immersive experience in nature. Here there are well-marked trails that lead to the top of the mountain, from where you can admire the valley below. The park is also rich in flora and fauna and you can spot animals such as wild boar, roe deer and golden eagle while exploring.
Unique events and traditions
Umbria is also a land rich in traditions and cultural events. Every year, cities like Perugia and Spoleto host important festivals dedicated to music, theater and contemporary art.
The Festival of the Two Worlds of Spoleto is one of the oldest and most prestigious art, culture and music festivals in Europe, which attracts artists and spectators from all over the world.
The region is famous for its popular festivals, such as the Giostra della Quintana in Foligno, an equestrian competition that celebrates the medieval era. https://italian-traditions.com/quintana-joust-foligno/
The Umbrian cuisine  
It is a region that knows how to conquer the most demanding palates. Its traditional cuisine offers genuine dishes and authentic flavors that can create unforgettable gastronomic experiences.
Among the culinary treasures of Umbria stands the black truffle of Norcia, a valuable product that gives the dishes an unmistakable aroma. Umbrian truffles are used to season pasta, risotto, sauces and salami, creating an explosion of flavors that satisfies even the most demanding palates.
Foto – pixabay.com
Another iconic dish is porchetta, a roast pork seasoned with garlic, rosemary and spices that is cooked slowly until it reaches a succulent and crunchy consistency. Enjoying a slice of pork in a hot sandwich is a culinary experience as simple as unmissable.
Umbrian cuisine also explores the tradition of hunting, with wild boar becoming the protagonist of dishes such as wild boar stew. This dish sees the game marinated and cooked over low heat with tomato, vegetables and spices, resulting in an intense flavor that recalls the rural roots of the region.
You can't talk about Umbrian cuisine without mentioning the cake al testo, a rustic bread baked on a terracotta plate called "testo". It is filled with cold cuts, cheeses, vegetables or simply oil and salt and represents an ancient culinary tradition that has been handed down for generations.
Gourmands will be able to satisfy their "cravings" by tasting the wine donuts, biscuits to soak in wine, tozzetti, cantucci-like with dried fruit and Torcolo di San Costanzo, a traditional donut enriched with raisins, pine nuts and candied cedar.
Umbria is also known for its fine wines, such as Sagrantino and Grechetto, which perfectly accompany traditional dishes, enhancing their flavors and enriching the overall culinary experience.
Where is Umbria and how to reach it 
Umbria is located in central Italy, surrounded by Tuscany to the north and northwest, the Marche to the east and northeast, Abruzzo to the east and southeast and Lazio to the south and southwest.
Why is Umbria different from other regions of central Italy? It is a region characterized by hilly and mountainous landscapes, framed by historic cities and charming villages. Its geographical boundaries are traced by an alternation of mountains of the Apennines and hills that protect the territory from cold winds and welcome visitors with their charm that does not regret the sea.
What are the Umbrian plains? They are not very significant and however they are located at a certain altitude, becoming in fact part of the hilly area. Among the most important are the Valle Umbra, the Val Tiberina, the Gubbio basin and the Terni basin.
With its central location, it almost seems that Umbria acts as a mediator between the north and the south of Italy, offering an oasis of tranquility and serenity reachable through different transport options, both from north and south.
By plane, you can land at Umbria Airport "S. Francesco d'Assisi", located just kilometers from Perugia and Assisi. Other nearby airports include "Raffaello Sanzio" Falconara Airport and "Amerigo Vespucci" Peretola Airport. Moreover, the airports of Rome-Fiumicino, Pisa and Rimini offer flight options to reach Umbria.
If you prefer to travel by car, Umbria is crossed by several roads. If you arrive from the north, you can take the Autostrada del Sole A1 from Florence to Rome while if you arrive from the south then you can take the Adriatica A14 motorway from Bari to Bologna.
Who wants to travel by train can take advantage of one of the connections between the main cities of the region offered by Ferrovie dello Stato.