First of all: the word 'gattò' has nothing to do with cats ('gatti' in Italian), nor it is a real word at all. In fact, it is the deformation of the French word 'gâteau' – meaning 'cake' – into the dialect of the Napoli area. The key to this unassuming recipe is in fact to use real ingredients from that region, especially the mozzarella cheese. If you don't have access to real Italian mozzarella cheese (possibly the even tastier variant made with buffalo milk) do yourself a favor and skip to the next recipe, as the result would be just a very heavy dish without its great flavor. To choose your cheese, remember that buffalo mozzarella spoils in just three days and both it and factory-made cheese is sold immersed in milky water – do not accept anything that is too hard, not perfectly white or sold dry. The Internet, and overseas night delivery, are your friends here. While you are at it, get some real cured ham ('prosciutto cotto'). Most brands imported from Italy will do: just remember it should be a healthy shade of pink and not the cheaper 'spalla' (shoulder) but actual ham, as the taste is markedly different. Oh, and by the way: 'parmesan' is nothing like real 'parmigiano reggiano' either.
Ingredients
* 6 average-sized potatoes
* 2 free-range eggs
* 100 grams ham, pre-cubed or in a thick slice
* 350 grams mozzarella cheese
* 1.5 handfuls of grated parmigiano reggiano cheese
* Small butter stick
* Black pepper
* Salt
* Breadcrumbs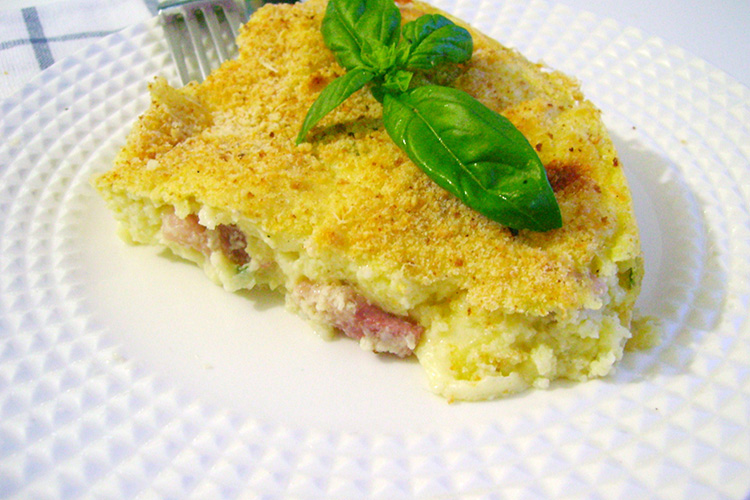 Preparation
Peel and boil the potatoes in unsalted water. While they cook, cut the ham into very small cubes and slice the mozzarella into slices. Take a single-use aluminum pan, roughly 35 by 25 centimeters, and "paint" it evenly with the butter stick, then coat it with finely grated breadcrumbs which should stick to the butter. Dump the excess crumbs. Mash the potatoes in a bowl, separately whisk the eggs then join them to the potatoes and mix evenly. Add the ham and the mozzarella. Mix well, adding salt and pepper to your satisfaction. Put the result in the pan without pressing it, as the gateau should remain airy and relatively soft. Spread more breadcrumbs all over it, then spread the parmigiano reggiano on top of it all. Add a few butter flakes here and there to get a golden crust, then bake at 200 C° for 20 minutes. If you are a perfectionist, turn on the overhead grill for the last five minutes.