The extra virgin olive oil is an irreplaceable ingredient, and ever-present one in Italian cuisine: in first and second courses, on vegetables and on bruschettas, or simply on plain bread.
In Italy there are over 500 olive varieties and several areas of the national territory dedicated to oil production, allowing for the production of many varieties of Extra virgin olive oil with the DOP seal, different one from the other in flavor, smell and aroma.
The essential requirements of Extra virgin olive oil
By Extra Virgin Olive Oil we mean an oil obtained from the drupes (the fruits) of the plant Olea europea. To define Extra Virgin Oil as such it is important that the oil extraction methods starting from the fruit are exclusively mechanical and with no use of chemicals.
As previously said, there are many varieties of Extra Virgin Olive Oil but those that stand out for a higher quality have these aspects in common:
They come from Italian olives, either DOP/IGP/organic-certified;
Extremely low acidity (maximum 0,5-0,8%);
Highly fruity smell of grass and fresh olives;
Cold pressing;
Storage in containers that protect them from the light.
Nutritional profile and benefits of Extra Virgin Olive Oil
Extra Virgin Olive Oil is an actual functional food with many beneficial and healthy qualities which prevent many diseases and that is the reason why it is also one of the best fats to use in one's own daily diet.
It has a high energy value (899 Kcal per 100 ml) but it is a great condiment to use in the kitchen because it is: extremely rich in mono-unsaturated fatty acids of which the main one is oleic acid; rich in poly-unsaturated fatty acids among which are essential fat acids such as linoleic acid, low in saturated fats and with no cholesterol. For these reasons, the guidelines suggest from 2 to 4 10 ml portions (1 tablespoon) per day for adults and children.
The high value of oleic acid, combined with that of essential fatty acids, makes this product a precious ally of the cardiovascular system helping to keep low what is generally called bad cholesterol (LDL) and increasing, on the other hand, the synthesis of good cholesterol (HDL).
Furthermore, it has an antioxidant function thanks to polyphenols which combat the forming of free radicals which are the main cause of cellular aging. In addition, the high content of Vitamin E, together with carotenoids and Vitamin A that promote collagen synthesis, help to have an elastic and healthy skin.
The composition of Extra Virgin Olive Oil's fat acids makes it particularly resistant and stable to high temperatures, for this reason it is ideal for frying, but nevertheless, it is advised that it be consumed raw to obtain all the thermolabile secondary metabolites which would get damaged during the cooking process.
Where is Extra Virgin Olive Oil produced in Italy?
About 80% of Extra Virgin Olive Oil is produced in the Southern regions, more specifically Puglia, Calabria, Sicilia and Campania while the remaining production is divided between Tuscany, Liguria, Umbria e Abruzzo.
In the Puglia region, more precisely in the province of Foggia the Dauno olio extra vergine (DOP) is produces while the olive trees of the city of Bari and of the surrounding areas produce an extra virgin olive oil called Terra di Bari (DOP), which includes the oil from Castel del Monte, Bitonto, Murgia dei Trulli and delle Grotte.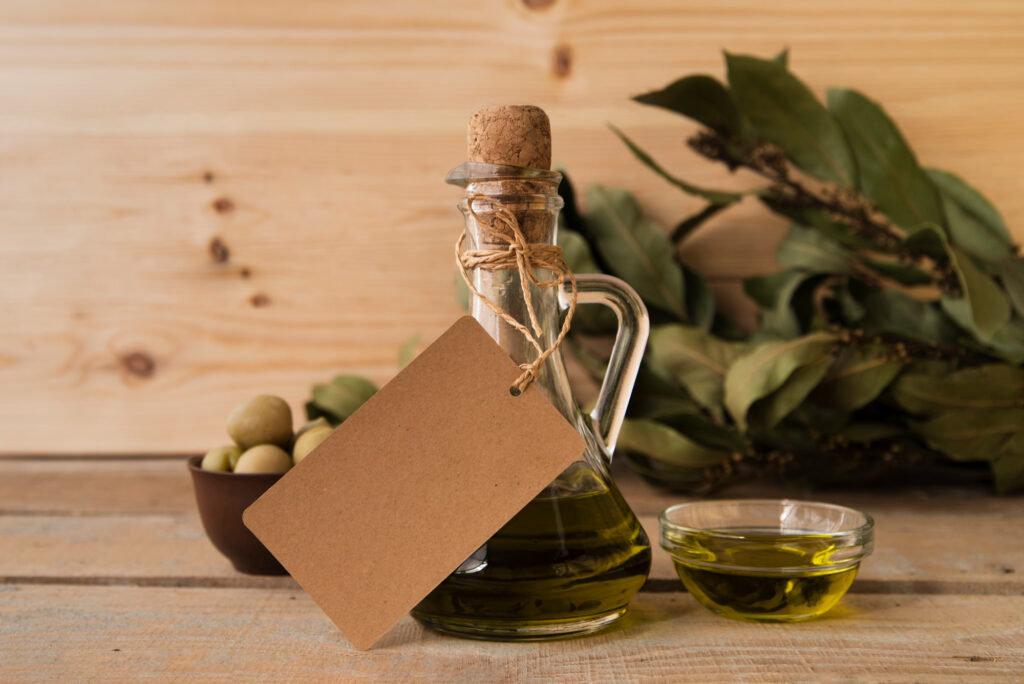 Moving toward the Sicilian territory, there is Fontanasalsa which is a very dense olive oil, with a smell that reminds vaguely of freshly cut grass and the Zisola which on the other hand comes from the area of the Iblei Mountains, a mountainous area in the south-east of Sicily.
Meanwhile, in Campania there are 5 DOP-certified varieties of Extra Virgin Olive Oil: from Cilento, Irpinia, Colline Salernitane, Penisola Sorrentina, Terre Aurunche.
Finally, Calabria's Extra Virgin Olive Oil is obtained mainly from olives that come from local varieties spread around the region: Carolea, Dolce di Rossano, Sinopolese, Grossa di Gerace, Tondina, Ottobratica, Grossa di Cassano, Tonda di Strongoli.
Featured image: Agricola di Niso