The famous character of Italian art comedy
The commedia dell'arte is a theatrical genre born in Italy in the 16th century. It originated the masks that are still worn during the carnival celebrations. One of the best known is the mask of Harlequin. Italian Traditions will lead you on the discovery of its origin and its role within comedy. Finally we will tell you some curiosities that distinguish this typical carnival figure.
The character
It is one of the most famous masks of the Italian art comedy. This was present in the theaters of our country until the end of the 18th century. Its introduction was due to the actor of Bergamo Alberto Naselli. The character has a cheerful and lively personality and always tries to play jokes and deceive people. He expresses himself in a shrill voice and instead of talking, he sings. He wears a costume made up of pieces of fabric of different colors and wears a black mask.
His origin
The origin of the Harlequin mask has distant roots. On the one hand it can be said that he was born in Bergamo and is the combination of two different figures. The Zanni from Bergamo and the diabolical characters of the French popular tradition. A characteristic mask of the farming world, to which it is closely linked, has very distant origins and has been handed down to us from generation to generation by the agricultural tradition.
The name has a Germanic origin and means king of hell and in the twelfth century he was meant to be a demon.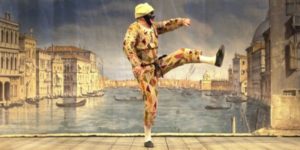 The mask of Harlequin in comedy
The presence of the Harlequin mask in art comedy goes back to the medieval period when he walked the squares and fairs throughout Italy with acrobats and other entertainers. The first recording in which his costume is depicted is found in the book of 1601 Composition de Rethorique by Tristano Martinelli.
One of the most famous representations is that written by Carlo Goldoni in 1746 and entitled Arlecchino servitore di due padroni. This is one of the comedies of the most represented writer in the world. In recent times the most important and well-known Arlecchino was Ferruccio Soleri who brought the character to the stage in this Goldonian comedy staged by Giorgio Strehler.
Curiosities
His costume was originally a white tunic typical of the farmers of Veneto and Lombardy. With his appearance within the Commedia dell'arte his costume became more elaborate. It is indeed a tunic made of pieces of fabric of various colors. Over time it became increasingly more elegant until it got its typical diamond pattern. His face is covered by a black mask and he wears a white hat. He is also equipped with a wooden stick that he uses to defend himself when he is involved in fights.
Popular traditions are still present in our country today. Some personalities belonging to the traditional culture and to the commedia dell'arte are known and appreciated all over the world. If you want to discover other famous Italian masks, we advise you to read this article too. Now that you know about Harlequin you can wear his costume to celebrate the next carnival party