From August 14, 1949, in Lavagna, one of the most evocative Italian folkloric events is held. This is the Fieschi cake, an event that animates the historic center of the Ligurian town with an impressive historical procession in medieval costume, and ends at the foot of the Torre dei Fieschi. The latter is a reconstruction of an ancient military building, now incorporated into the modern town.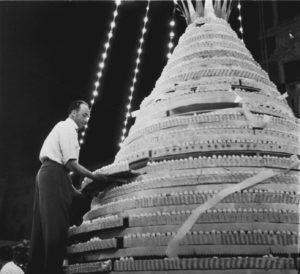 The Torta dei Fieschi: a story that fades into legend
In 1230, Count Opizzo, who returned victorious from a war, married the Sienese Bianca dei Bianchi, with a sumptuous marriage, and with the offer of a gigantic wedding cake to the people of Lavagna.
Therefore even today during the historical re-enactment, after reading the proclamation of the wedding, the Countess cuts the cake at the center of the town: a 13 ton cake, made by the local pastry chefs, whose recipe is jealously kept secret. The evening before, the bachelor party of Opizzo with his knights is held in the churchyard of the Basilica of San Salvatore, with a sumptuous banquet, music, dances and costume parade. At the very moment of the cake cutting, the game to find a soul-mate kicks off. Participants to the game are given coloured cards, pink and light blue cards for women and men, with a medieval word on each. During the cake cutting, they have to search for the owner of the card with same word in the square. The partners thus identified then go to the center of the square to receive the two slices of cake to be consumed together. And then, only time will tell.
With the distribution of the cake, then, the celebrations begin in honor of the groom and bride, with shows of a "medieval" character: duels, games, flag-wavers, dances and music, fire-eaters and acrobats.
The Fieschi represented in the re-enactment were a powerful family that reached the peak of their splendor in the thirteenth century, and the operation of recovery of this tradition dates back to the '50s. The event is the culmination of a week of side events, which include palios, exhibitions, music and ancient dance, culminating then in the procession on August 14, with records of MORE than 10 thousand spectators in each edition.