Let's discover how Italy celebrated the end of the year 
The last day of the year is a very awaited and anticipated celebration in Italy, and in particular for the lunch/dinner of 31 December there are many uses and habits according to the region where we find ourselves. One of the most essential aspects of this celebration is without a doubt dinner. In fact, on this occasion dishes typical of Italian tradition are prepared. In some Italian regions it is customary to celebrate while at the table the night of St Silvester whilst in other parts of the country lunch on the first day of the new year is to be preferred. So here are the main customs regarding St Silvester spent at the table. Finally, you will learn about Italians' most interesting customs and traditions to celebrate the new year together with friends at the table.
Dinner of the 31: the traditional regional dishes 
During the lunch / dinner of the 31 the recipes that are served are related to regional myths and traditions. The most famous ones are related to earning. In fact, it is believed that eating some specific foods in this particular occasion is a good omen for the future. One of the most ancient ones regards lentils. Since Roman times it was habit to sat fast the last day of the year and usually you would gift it in a leather bag. The wish was that with the new year these would turn into golden coins. But that is not all, in fact there are many foods that are believed to be bring fortune. An example are pomegranate and grapes. 
 A custom shared by the central regions in Italy is that of eating twelve grapes when the clock strikes midnight. In addition to these well wishing dishes there are others that are enjoyed on this occasion. These change according to the region. In Piemonte there is the stew while in Lombardia panettone is a must. In Campania, during lunch / dinner on 31 December it is customary to eat cod while in Liguria capon is preferred. In Abruzzo it is tradition to prepare seven soups with seven types of legumes. This rite is believed to be propitiatory to have money in the new year. Finally, in Alto Adige it is customary to have ravioli filled with kale called tirtian. As far as traditional dishes go, two other things that cannot miss on Italian tables are cotechino and zampone.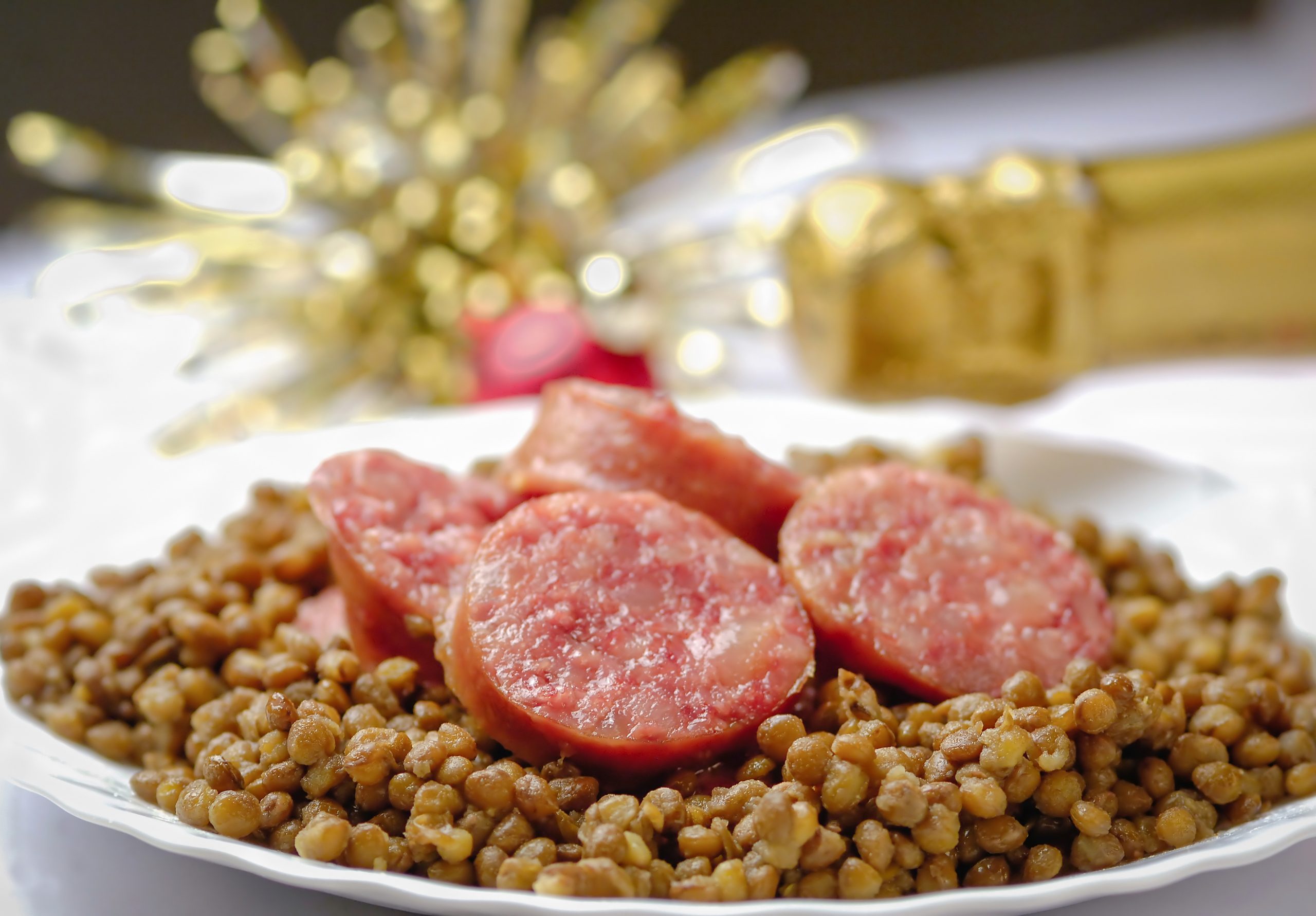 Italian traditions on the dinner of 31 December 
In Italy for lunch /dinner of 31 December there are many traditions that are repeated each year and that change according to the region. Emilia Romagna is one of those regions that has many customs related to this celebration. Among the most particular is burning a puppet that looks like an old man and that it is supposed to represent the old year. This is very common in the province of Bologna. In Ferrara there is a great show of the fire of the castle that has a lot of visitors every year. There are many traditions related to fire for St Silvester. 
One of the most interesting ones is the old rite of the pignarul practiced in Friuli. You light up a big fire and you sing and dance around it. In Puglia one of the most popular traditions is to throw two seeds of wheat in a glass of water. In Calabria you usually throw some hard items on the ground or some stones. Furthermore, there are many firework shows which are planned in these occasions in many Italian squares. These light spectacles are unmissable things on this celebration.
Cover Image: ferrara24ore