Le Castella is a hamlet of Isola di Capo Rizzuto, in the province of Crotone, in Calabria. Also called by its inhabitants I Casteddi or I Casteddri, it is located on the Ionian coast about 10 kilometers from the capital and is among the main tourist destinations of Calabria.
What makes Le Castella famous is the Aragonese Fortress that houses inside, so suggestive to have been elected a symbol of regional tourism and one of the best attractions of the entire coast. Being, then, a seaside resort, the village is loved and appreciated also for its beaches and for the wonderful places that reserves to tourists.
The sea and the beach
The spiaggia of Le Castella is among the most coveted of Isola di Capo Rizzuto: its entrance is very easy, which makes it perfect for families traveling with children. The result? It turns out to be , always very crowded, so it is highly discouraged for those who want a holiday of silence and absolute relaxation!
From the marina of the beach, then, every morning depart numerous boats that lead tourists to wonderful excursions at sea.
Located in the east of Isola di Capo Rizzuto, Le Castella beach is characterized by fine red sand and a turquoise and crystal clear sea, with shallow waters so low that it is suitable for bathing children. The clarity of the water allows you to admire even with the naked eye the various species of fish present and is particularly inviting for all lovers of diving and snorkeling.
In front of the beach stands the majestic Aragonese Castle, which can be reached through a small sandy strip easily passable when the water is low.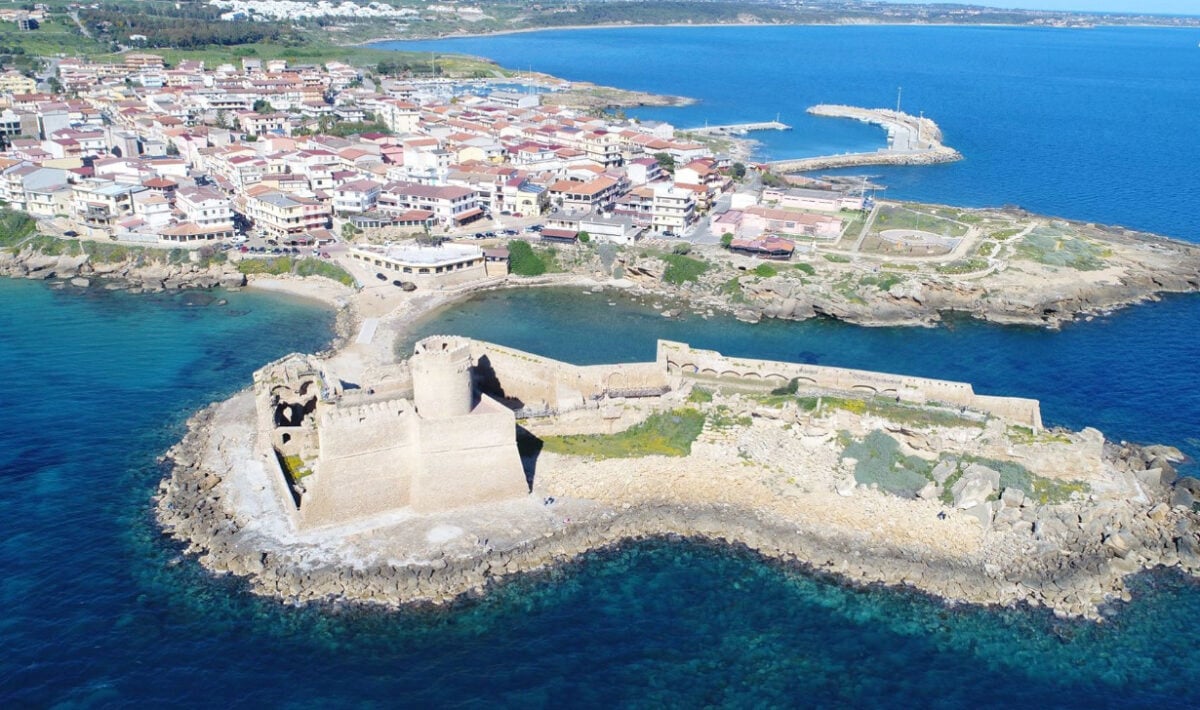 The Marine Protected Area "Capo Rizzuto"
Made official by Ministerial Decree of 27 December 1991, the Marine Protected Area "Capo Rizzuto" includes a coast of 42 kilometers, 14,721 hectares, which extends to Punta Le Castella.
This is , a charming and fascinating place, since it perfectly blends history and nature giving visitors a unique experience: a glimpse of the Mediterranean Sea that aims both to preserve a very important stretch of coast from the environmental point of view, and to protect the precious archaeological heritage that is located on the seabed.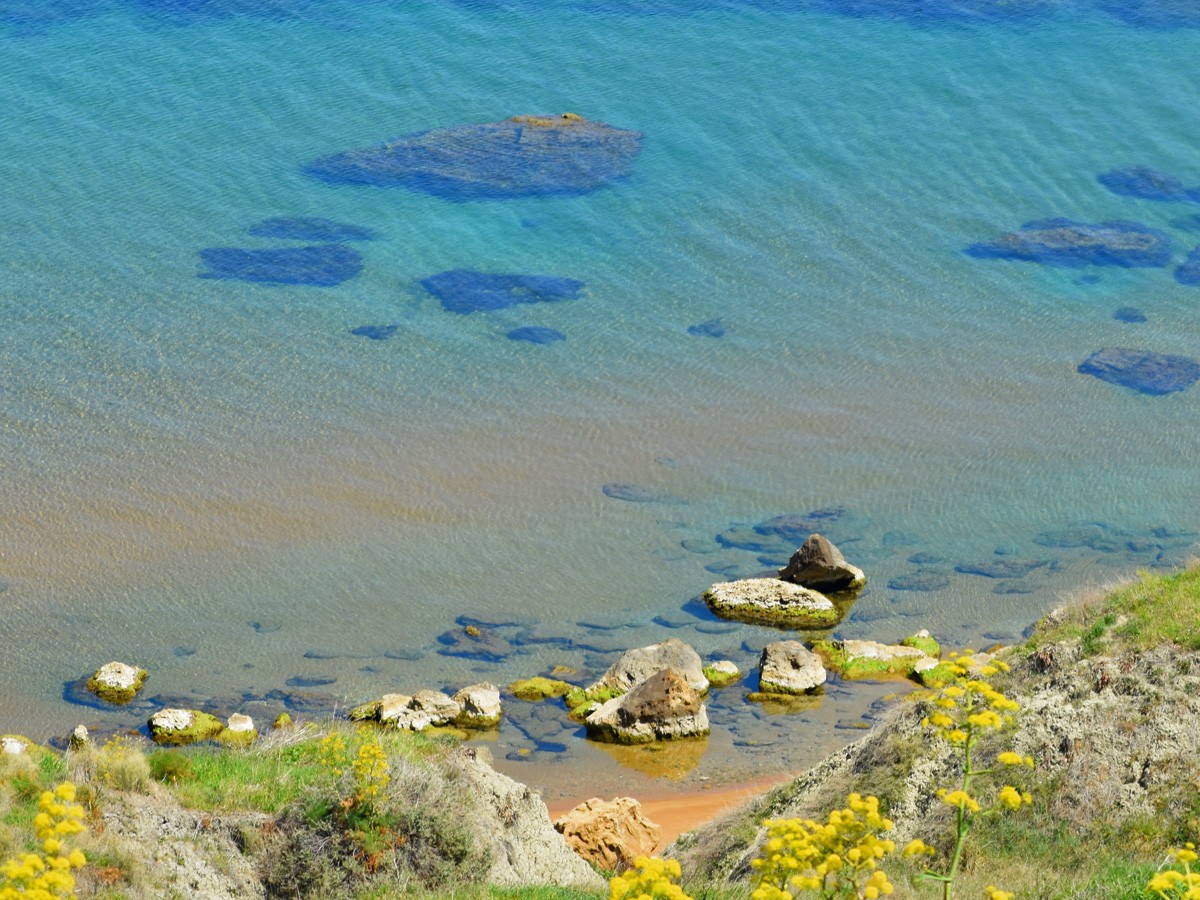 What to see
In addition to the beautiful wonders naturally offered by the landscape, The Castella preserves inside of the architectural beauties that are equivalent to real evidence of historical events that have seen this area of Calabria as a crucial point of political and economic activities over the centuries.
The undisputed symbol is the Aragonese Castle, a building dating back to the period of Magna Grecia and built on a small peninsula overlooking the sea. Despite the many renovations and changes made over the years, the structure is still in excellent condition.
To visit is also the walls of the village, along with the Church of the Visitation of the Blessed Virgin Mary dating from the seventeenth century rich in valuable statues of different saints and numerous coastal towers and sighting.
Another interesting area is Punta Cannone: walking along the marina, you can admire quarries dating back to Magna Grecia from which were extracted the rocks and column blocks of the Aragonese Castle of cylindrical and rectangular shape.
Finally, even the fishing port and the marina are really beautiful to see: both date back to the post-war period, even if their predecessors were already used in the Middle Ages for trade with Venetian and Genoese.
Where to stay
Le Castella is a very small village but, not for this, deprived of all the necessary comforts to make visitors feel at home! The accommodation facilities are numerouse, each with certain characteristics to meet any type of need: hotel for short stays where you can stop between trips, villages and residences for families who need services within reach of children, B&B for groups of friends who aim to save money and camping for all those who love to travel by camper!
What to eat
Calabrian cuisine in general is known all over the world for its strong flavors as strong as genuine, characterized by unmistakable and engaging spices. Le Castella is not exempt from all this, so even here you can enjoy dishes made with typical cheeses , and other specialties that make your mouth water just by looking at them: the butirri, small cheese bags filled with unsalted butter and wild fennel.
The sardeddra, newborn fish also known as "Calabrian caviar" topped with chili; i cavateddri, gnocchetti di farina di grano duro handmade with pork sauce; i pitta cc'u l'ojjhu, a pastry cake made by mixing wine and olive oil stuffed with almonds, honey, raisins and cinnamon; the tardiddri, dumplings kneaded and covered with honey, sugar, cooked wine and then fried. In short, there is something for everyone!
Nightlife
The town of Capo Rizzuto, in itself, is known for the many fun offers it offers to tourists and visitors on vacation and Le Castella is a real source of entertainment and entertainment!
For those who love dancing is a must at the disco Tropicana, very popular and famous for its DJ sets, as well as at the Lotus discoclub, a location very careful and attentive to the selection of the audience.
If, instead, you want to make a aperitivo tasty and also full-bodied, just take a walk along the coast to choose from the various beach bars, cocktail bars and beach clubs present the most suitable to your expectations: First of all theAloha Beach, a bathing establishment known for its excellent catering service and for the wonderful view of the Protected Marine Area of Capo Rizzuto; secondly, then, the Paranza Beach Club, located about 30 kilometers from Capo Rizzuto, a location entirely made with natural and sustainable materials where you can participate in events and happy hour at sunset.
Paranza Beach Club