March 19th  is approaching and if you are thinking about an original gift for your dad, why not organize a surprise lunch with a nice Father's Day menu?
Veneto is a region rich in culinary locations where you can organize a special evening for this particular event and taste the best typical dishes of the area.
Among these I could mention the Osteria Alla Sicilia Casa Vian, a delicious restaurant located in Dosson, in the province of Treviso, which offers its customers four dining rooms and a charming Park to have fun and relax.
Precisely on the occasion of Father's Day, the Vian Family, like many other restaurants in Veneto, has organized a very special menu, which I am sure will please everyone!
For next March 18th , Sunday, here you will be able to enjoy an aperitif made with stuffed panzarotti and savory pies, excellent antipasti with pork, fresh and aged cheeses and local cold cuts.
And it does not end here, because you will continue with risotto and pasta with duck, seasonal raw vegetables and various salads, to end with a fantastic cake and all washed down with a good local wine.
To make this day truly unforgettable, the day will be enlivened by the music of the Jonathan Orchestra and Gianni Dego.
How to reach Dosson
By car, take the A27 Venezia-Belluno motorway and exit at Mogliano. From here take the SS Terraglio towards Treviso and follow the signs for Dosson.
By train, the nearest station is Treviso and from here you take the bus line n.9 to Dosson, with which the capital borders (see the timetable here).
By plane you land at Antonio Canova airport in Treviso and from here you can reach the destination by bus or taxi or by renting a car.
For info and reservations click here.
History and traditions of Venetian restaurants: Osteria Alla Sicilia Casa Vian
I could recommend many excellent restaurants where you can eat in Veneto and take advantage of Father's Day to spend a special day, enjoying many excellent typical Venetian dishes.
Just think that there are many that have very old traditions, such as Osteria Alla Sicilia Casa Vian, which when it was born in 1921 to reach it, starting from the center of the town, you had to cross a real sea of ​​fields.
But not only that, you had to head south to reach it and that's why they used to say I am going to the (Osteria) Sicily. Interesting, isn't it?
I'm telling you about a typical country inn frequented by the locals, who as soon as they finished work would gather here to play cards enjoy a glass of good wine and delicious snacks.
Today the restaurant has kept its historic name, but it has been transformed and made more welcoming by its owners, who have created large and colorful rooms, a veranda and a cellar.
Among the many renowned Italian restaurants where you can celebrate important events, special events or a relaxing day with some good food, the Osteria Alla Sicilia Casa Vian in Dosson di Casier certainly deserves a visit.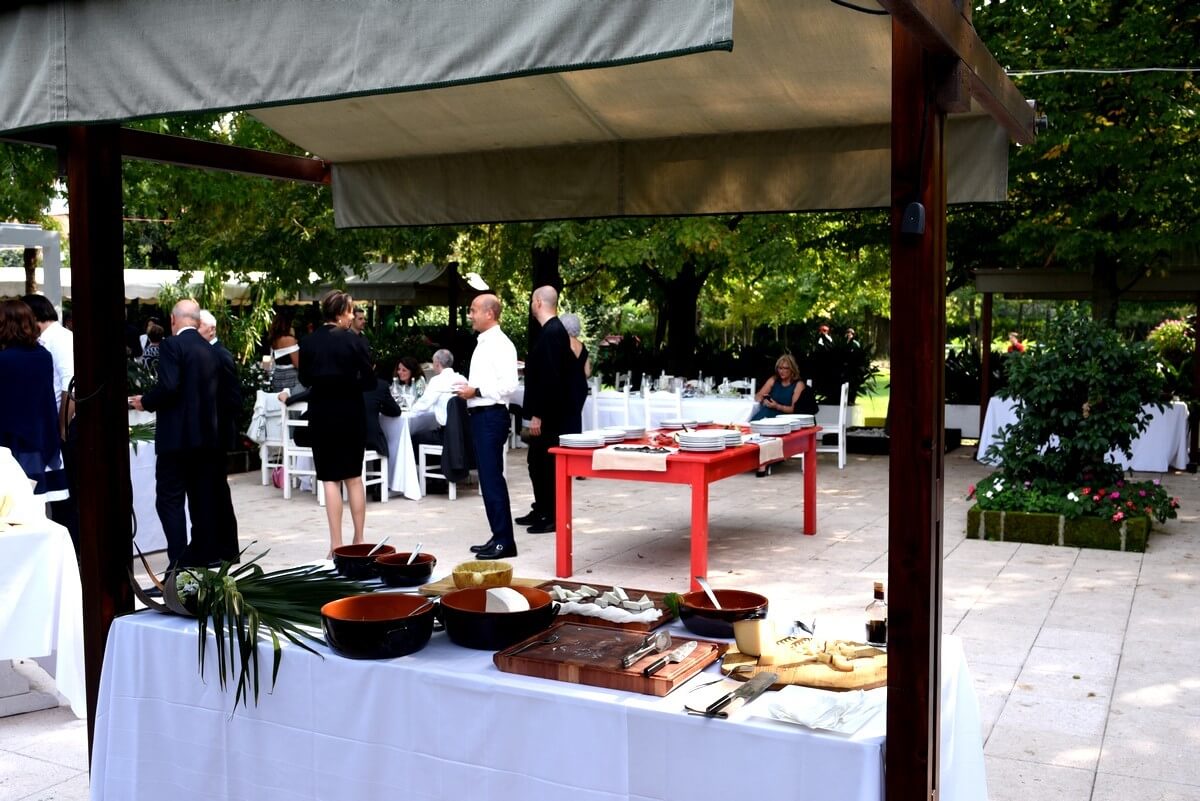 What the Osteria Alla Sicilia Casa Vian proposes for Father's Day
Today, to celebrate your father in the best possible way, you are spoilt for choice. Wherever you turn, you're overwhelmed by advertising posters and local TV ads that offer you their menus, right?
If you are curious to discover what one of the most welcoming restaurants in Veneto will prepare, the Osteria Alla Sicilia Casa Vian, here are some dishes I'm about to reveal.
How can we not start from a succulent aperitif to whet your appetite? The dining room staff is ready to serve at the table:
Cocktail snacks in puff pastry
Savory pizzas
Stuffed panzarotti
Savory pies
Ascoli olives.
But wait, the banquet has just begun, because it continues with a rich appetizer, a risotto with the scents of the woods and mezze maniche pasta with duck.
Do you already feel full? I hope not! There are still seasonal raw vegetables, capricious salads, Russian salad, celery beans and glazed onions.
And how not to end the lunch dedicated to your dad with a cake and a good coffee? All this, of course, accompanied by an excellent wine from the Casa Vian cellar.