Christmas menu, traditional Italian recipes
Christmas is so close and this year too brings one of the most loved festivities: as tradition wants it everyone prepare a Christmas menu according to the old traditions that each region has, although there are also those who would rather have lunch at a restaurant. Let us find out together the perfect recipes for Christmas, with some related fun facts!  
Italian Christmas Menu: the differences between regions 
Christmas lunch respects regional traditions: from South to North there are many typical recipes, from first courses to second courses to desserts, which let us enjoy a small gastronomic tour among the different regions. First of all we ought to take into account that menus for Italian celebrations feature entree, first course, second course and dessert: let us find out some of the most typical recipes.
In the North of Italy there are some recipes which are ideal for an Italian Christmas menu: for example in the region of Lombardia, often times risotto with saffron and luganega sausage is prepared,luganega being a meat originary from Lucania and from Roman times, or the famous tagliatelle with meat sauce, typical of the region of Emilia-Romagna.
Among second courses stands out the Carbonata Valdostana, a dish featuring meat strips soaked in wine, often combined with some polenta. 
To prepare this local recipe beef meat flavoured with clove, crushed juniper berries, carrots, garlic and just a bit of onion. Meat will be soaked in wine and let macerate overnight; the day after they will be breaded with flour or starch, cooked in a pan with butter and lard over low heat. Then it is important to saute the onion and add the meat with herns, add some pepper and the filtered marinade. Once the wine starts to boil lower the heat, add some more wine and wait for the meat to become tender. Finally, the recipe can be served hot, adding some salt. 
Among the desserts, one of the most famous is the Gubana, a recipe from Friuli that consists of raised dough stuffed with biscuits, dried fruits and some grappa or rum. A fun fact related to this dessert is that its name means fold and comes from the Slovenian "guba:", because it was first created in the Valleys of the Natisone, at the border with Slovenia. 
In central Italy too the Christmas menu features many traditional dishes: among the most popular is the casserole from Abruzzo, a recipe that features layers of crepeswith tomato sauce and meatballs. 
To make this dish  we need to prepare the meatballs and the crepes, the latter need fresh eggs, milk and flour. For the meatballs the method is quite easy: you need to mix ground meat with parmesan and egg yolk, in addition to salt, pepper, and parsley. Then cook the meatballs and the crepes in two differents pans, finally you will need to assemle the caserole covering each crepe with tomato sauce, meatballs and white sauce and bake it in the oven for about an hour at 180 degrees.
Another famous recipe is the maccheroni marchigiani or struffoli campani, small balls of sweet dough which is fried and then covered in honey. 
Among the Sicilian recipes stands out pasta with sardines, a unique taste lent from a secret ingredient: fresh wild fennel from the mountains, which grants an irresistible flavour to the pasta.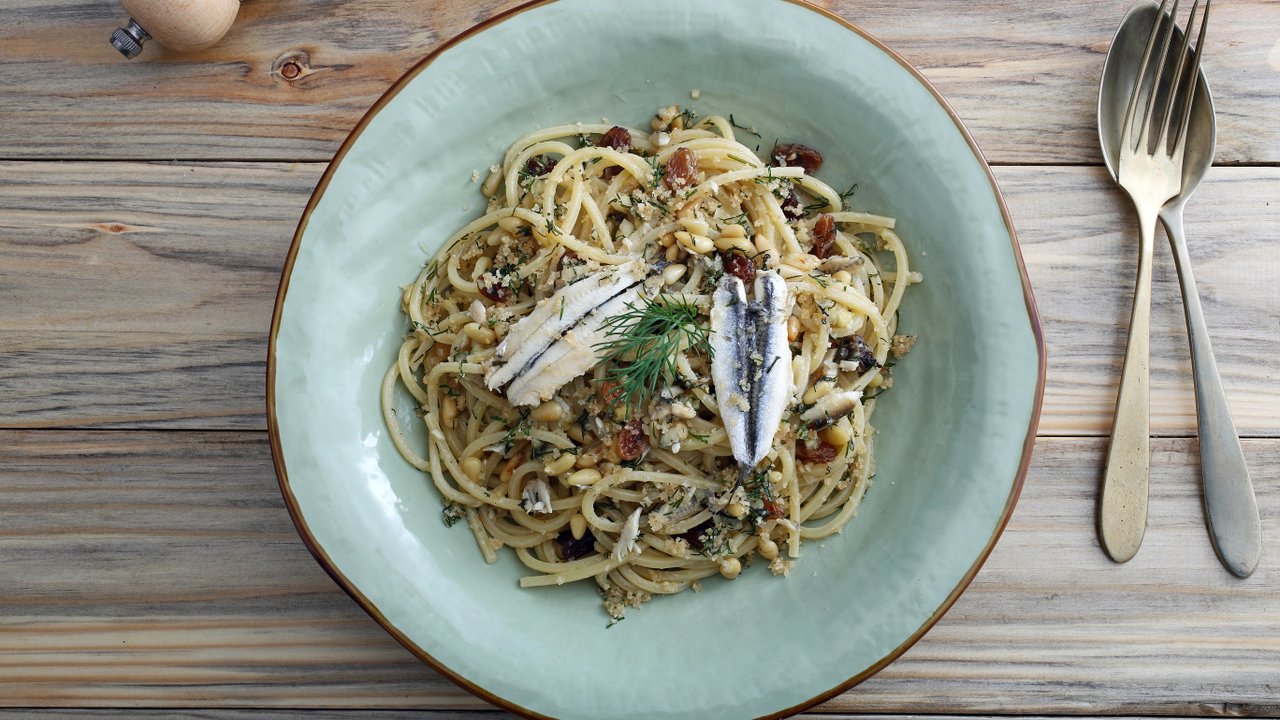 Some fun facts about Italy's Christmas menus 
After having seen some traditional dishes which often feature in an Italian Christmas menu, here some things you did not know. Christmas in Italy has always been a very important event, from the early 1900 in fact there was the custom to eat "a crepapancia", which basically means until you cannot longer put anything else in your mouth, without limits.
For this reason, poorer families worked hard all year long saving some of the money for the Christmas lunch or storing some foods: when the society was more based on farming, you would eat foods that you would collect during the year, for example, salami, sausages, dried figs or raisins. 
Another interesting fact is that December 24 has always been a di magra day meaning low intake of calories day to get ready for the next day's feast and in some regions they would prepare some broth for dinner and for the next day, often to combine with ravioli or tortellini. 
Furthermore, already in old times among the most loved desserts appreciated everywhere regardless of the region were already the Pandoro and the Panettone: the latters was made with white flour only and it was a great luxury to be able to enjoy a piece for Christmas, together with your loved ones. 
Cover Image: vanityfair