It was July 14th, 1963: when Calimero made his appearance on TV for the first time, the proverbial "black chick" created by Nino and Toni Pagot with Ignazio Colnaghi. Small and black, with half an eggshell on his head, Calimero became one of the protagonists of the Carosello in the advertising of Mira Lanza detergents, and became an extraordinary media success.
The character, in fact, immediately became famous – some of his characteristic phrases entered the everyday language of Italians – thanks to a tv series in colour of 290 episodes that was transmitted first in our country and then, dubbed, in different countries. In 1974, Calimero landed in Japan, where Toei Doga produced a series of 47 TV episodes, he then returned in 1993 with a further Italian-Japanese co-production. And in the Land of the Rising Sun his success was truly extraordinary, so much so that Calimero became a best seller in the field of gadgets and even the testimonial of a bank. His fame and appreciation of the public reached the present day, thanks to a TV series produced by Alphanim in 2013, broadcast in Italy the following year by some television channels for children. For a period, however, in the '70s, Calimero – after being abandoned by Mira Lanza, which now considered the character a threat to the advertised product – was ousted by Rai because considered a hidden testimonial of the famous detergents. For this reason, the TV series was broadcast by Swiss television and Koper.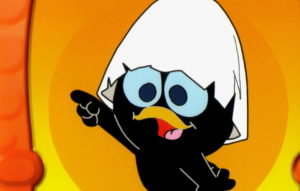 The name of the chick, Calimero, is linked to the church where his author, Nino Pagot, got married that is the Basilica of San Calimero. He is one of the sons of the Venetian hen Cesira, who disowned him because of his color, and of Gallettoni. Abandoned by his family, Calimero faces many adventures and vicissitudes and often bad company. In the Mira Lanza tv advert the Olandesina also appears- another character that has become known thanks to the spot – to put him back on the right track. The world of Calimero is also inhabited by a cunning duck, Piero, by Professor Gufo Saggio, Priscilla and Valeriano.
The TV series created after the successful advertising campaign focuses, thanks to longer and more elaborate stories of the individual spots, on a different story. In this case Calimero lives – an only child – with his parents, who love him and defend him from danger. Among the musical jingles used for the advertising series "Calimero" there is also one signed by Luciano Beretta and Carmelo La Bionda, while the famous acronym of the TV series was composed by Fraco Fasano and sung by Cristina D'Avena. Calimero's voice, on the other hand, was that of Ignazio Colnaghi, one of his creators, together with the designers Nino and Toni Pagot.
After many years, between successes and vicissitudes, Calimero continues to remain a true myth, able to leave his unforgettable mark of fragile and unfortunate chick on all the generations that came across him.