Palermo is a beautiful city in Sicily that, every year, thousands of tourists fall in love with: famous for its artistic and cultural beauties and for its street food based on typical Sicilian products, the city preserves a more unique than rare village.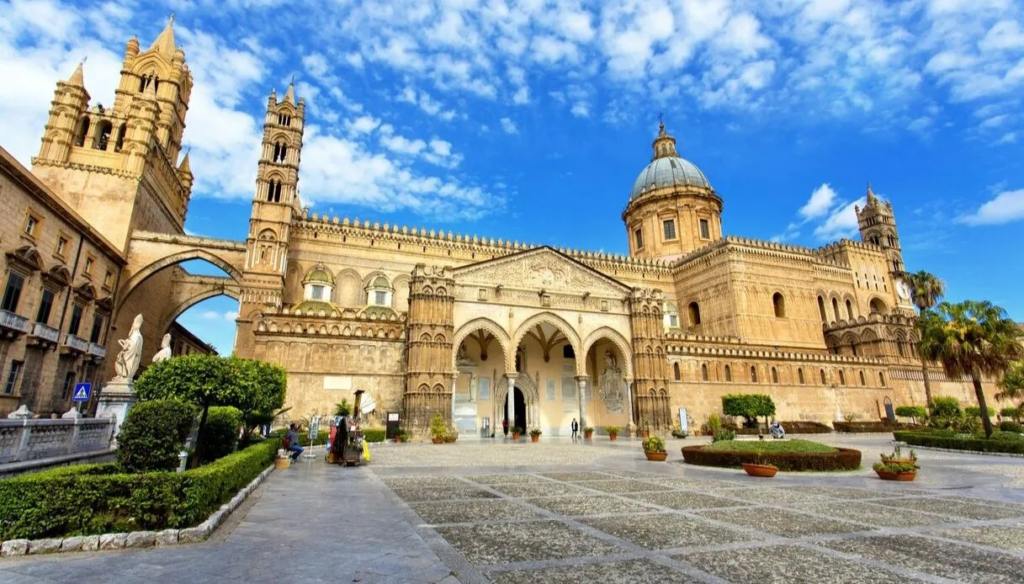 We are talking about Borgo Parrini, a hamlet of Partinico (just outside Palermo), a village inspired by the colorful art of Antoni Gaudì, which is worth visiting at least once in your life.
History of Borgo Parrini
Borgo Parrini was born between the sixteenth and seventeenth centuries, when the fathers of the Jesuit Novitiate of Palermo (precisely, the Parrini) bought the agricultural land north-east of Partinico, in Palermo. In the eighteenth century the Jesuits built a church dedicated to Mary SS.
Del Rosario, so as to have greater control over the agricultural activity of settlers and farmers in these lands where they were cultivated, mostly, vineyards and citrus. All around the church was born and grew a real village, with warehouses, houses for settlers, towers and mills.
Later, the religious order of the Parrini was eliminated and the property became the French prince Henri d'Orléans duke of Aumale: he decided to use the territory to produce and market the Moscatello dello Zucco, a very appreciated wine at those times, throughout Europe. The farm opened by Prince Henri d'Orléans had a lot of work, enough to occupy up to three hundred workers who lived throughout the village.
However, during the seventies of the twentieth century, the abandonment of the village by those who lived there began to be massive: people wanted to move to cities, where they would have the opportunity of a different life.
For a long time, therefore, the village took on the guise of a "ghost village" until, the few who had remained there, decided to take care of it. They began the renovation of the old houses and buildings inspired, by mutual agreement, the art of Antoni Gaudi.
They could not have made a better choice considering that, from the forgotten village it was, today the village is a destination for tourism internationally and, why not, worldwide: anyone passing through Palermo takes time to visit the village and take some amazing photos.
Discovering Borgo Parrini in Palermo
Getting lost in the streets and alleys of Borgo Parrini is an experience that will enrich you forever and that you will treasure in your memories of travel. As soon as you cross the entrance of the village, the feeling that you feel is to have been suddenly teleported to Barcelona, Spain.
In fact, the village faithfully recalls the art of the Catalan architect Antoni Gaudi, both in the shapes and colors, bright and bright. Walking through the streets of the village you will see a succession of white houses, turquoise doors, windows and windows in bright colors. The streets are full of houses and sculptures in glass mosaic and majolica, as well as flowers everywhere.
The colorful village is a praise to art, not only through the homage made to the style of Gaudi; in fact, this small "Sicilian Barcelona" honors many artists who have made history by depicting them on the walls and streets, Like Frida Kahlo.
And, in addition to women and men of art, the streets of the village reserve spaces for the celebration of important personalities of history, such as Gandhi and John Paul II.The village of Palermo is a real glorification of art, of color, flowers and personality that, in one way or another, have helped to make the world a better place.
Where to sleep in Borgo Parrini
Surely you are wondering if, such a village, can accommodate tourists for the night: the answer is yes! In fact, inside the village there are several facilities to stay: even buildings and holiday homes also in perfect Gaudi style, where you can enjoy a complete experience, Delving completely into the Spanish em>mood of this Sicilian village.
And if you prefer, you can always stay in Palermo: here you will be spoiled for choice in terms of accommodation. Beautiful Palermo offers every kind of solution, from bed&breakfast to boutique hotel, to villages and resorts. In addition, staying in Palermo will also be very convenient since, starting from this city, you can visit many destinations, such as:
Borgo Parrini, just 45 minutes by car;
Monreale, with its majestic Duomo and Cloister, less than 30 minutes by car;
Cefalù, an ancient fishing town, with its breathtaking promenade that is about an hour's drive from Palermo;
Just 10 kilometers away is Mondello, a must-see in the area and much loved by tourists;
The archaeological site of Segesta, further away because it is about an hour's drive from Palermo but really worth a visit.
Finally, more than an hour and a half drive from Palermo there is a wonderful natural attraction: the Zingaro Reserve. If it is true that the road is long, it is true that a day spent here will remain forever in your best memories.
Palermo is also much more but we are sure that, from Borgo Parrini to the Zingaro Reserve, your itinerary will be amazing!
Copertina: Giovani 2030