Rimini is one of the capitals of seaside and summer fun in Italy. But, beyond these unmistakable attractions, it is also a beautiful town, to be visited and experienced in full. Here is what to see in a day when visiting the beautiful Riviera Romagnola.
What to do in the capital of Emilia Romagna if you don't have much time
Historic Center
The historic center of Rimini stands out for its artistic and historical beauty and its special charm, to be discovered by taking a pleasant walk. Here stands the Arch of Augusto, perfectly preserved, and the House of the Surgeon, domus in Piazza Ferrari where you will be able to see – among other things – the instruments and furnishings of a Roman doctor.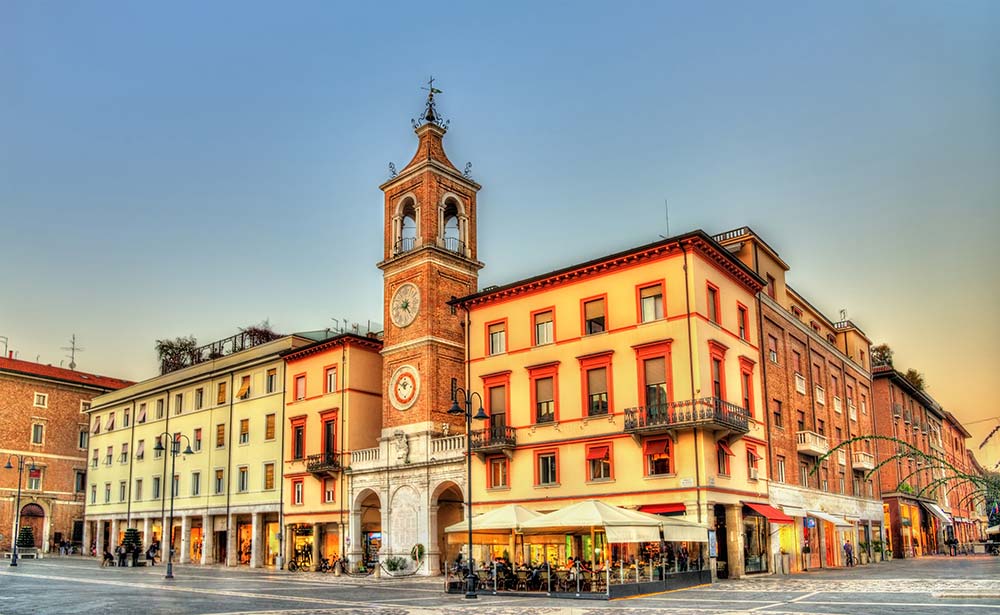 The ancient forum is visible in Piazza Tre Martiri, while the charm of Piazza Cavour is due to its medieval buildings such as:
• The Arengario Palace
• the Palace of the Podestà and
• The Town Hall.
In the center, also, stands the characteristic fountain called of the "Pigna". Also worth seeing is the City Museum, set up in the former Jesuit Convent, which houses the canvases of Guercino and Ghirlandaio. What to do in Italy is always a surprise, isn't it?
The Malatestiano temple
The Duomo of Rimini was renovated by the Malatesta family, which called artists such as Leon Battista Alberti and Piero della Francesca to create a masterpiece, adding to a previous intervention by Giotto. In fact, it was commissioned by Pandolfo Malatesta as a celebratory monument, and for this reason decorative elements dating back to paganism prevail, echoing neoplatonic culture of the time. The side chapels, in fact, were dedicated to the Liberal Arts and Children's Games, for example, and not to Saints and Madonna as is usually the case in all churches.
The old fish market
It is the most "traditional" place in Rimini to see in a day, a popular meeting place and a paradise for wineries and restaurants. Streets and alleyways and a gallery of arches, designed by the Buonamici architect, once housed the fish market, but today they are the scene of the town's movida.
Tiberio Bridge
Another Roman legacy: the bridge was built at the wish of Emperor Augustus and completed by his successor Tiberius. It overlooks the Marecchia River with its imposing five arch structure, and marks the beginning of Via Emilia. It is one of the symbols of the city, and is a quick and pleasant excursion if you are interested in visiting Italy.
Miniature Italy
Two hundred and eighty miniatures that faithfully reproduce as many masterpieces of Italian architecture make up that "wonder" that is Italy in Miniature. The Park also offers attractions such as the Science Amusement park, the Little Prehistoric Valley and Piazza Italia, attractions where fun joins knowledge and information. A Panoramic Tower offers a breathtaking view of its summit, while teaching workshops are devoted to fun learning for children.
Did you enjoy the things to see in Rimini in one day? Good! So why not take a look at another article designed especially for you? The rest of Italy awaits you …