Are you already organizing your next weekend and are looking for some ideas on where to eat in Abruzzo with your family or friends?
I could suggest a lovely little place that, just for the occasion of this next holiday dedicated to the Liberation, has organized a day full of good food and fun.
Are you curious to know which one it is? I'm talking about Agritourism Rurabilandia, located in Atri an ideal place for families with children.
But that's not all, you'll also like to know that it is an institutional educational and social farm, which currently provides services for minors and the disabled.
In addition to tasting the excellent genuine food prepared on site, at Rurabilandia you can buy many farm products, a gesture that will help to finance the farm project.
But first of all I want to tell you what the farm has in store for those who want to spend Liberation day immersed in nature, spending a memorable day with the little ones.
Take note, because it will be difficult to taste the delicacies designed for this particular day in other places.
And not only: to fill the whole afternoon a series of events have been organized for adults and children and a very special snack.
Are you ready to find out more about the event? I assure you that you will hardly forget the taste of the typical dishes of Abruzzo and not only that!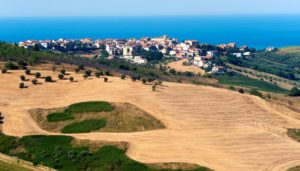 How to reach Atri
By car, take the A14 motorway and take the Atri / Pineto exit, taking the SP 28 and following the signs for Atri, continue towards Roseto to reach the farm.
By train you go directly to Atri / Pineto station.
By plane you land at Pescara airport and from here you take a bus to Pescara Centrale station, and then reach Atri by train.
Where to eat in Abruzzo: Rurabilandia to be discovered
It is right that you know what we are talking about before deciding where to eat in Abruzzo.
I will begin by telling you that Rurabilandia, unlike the other agritourisms in Abruzzo, has an important peculiarity: do you want to know which?
It is an institutional educational and social farm, which in the past housed a female orphanage.
And not only that: it is part of the Azienda Agricola belonging to the Fondazione Ricciconti, which currently provides services in favor of minors and the disabled.
But as mentioned before this farm is made available to schools, families, institutions and associations, to build educational and fun paths for both children and young people.
Do you think it's over here? But no, because Rurabilandia is also an agritourist restaurant where entire families can spend relaxing and fun momentsand enjoy good food.
I'm sure you will enjoy visiting a special place like this, where all the available spaces have been designed to accommodate children and teenagers.
Do you know why? To allow them to live an educational and training experience, while having fun they learning about healthy eating and integrate with less fortunate people.
Where to eat in Abruzzo: what offers Rurabilandia
I'm sure you can not wait to find out other interesting things about Rurabilandia, but you can do it in person on the next holiday in April.
Among the many Italian agritourisms where you can spend a few hours of healthy relaxation, this definitely deserves to be taken into consideration.
Abruzzo offers many places to eat, but at Atri's educational farm you will find a rich menu of many delicacies waiting for you:
Assorted appetizers of the farm
Green gnocchi with rocket and parmesan flakes
Tagliatelle with breadcrumbs
Stuffed pork loin with sausage
Fresh salad
Semi-wholemeal bread
Traditional sweet pizza
All accompanied by an excellent wine. What if the children do not like this menu? Don't worry, for them there are other simple but natural and tasty dishes.
this is only the beginning! After having tasted all these delicacies, prepare to get on the dance floor and dance to the rhythm of excellent 60s-70s-80s music.
Meanwhile, the little ones will be engaged in fun and educational activities inside the farm and the animal laboratory (click here for more info).
A day like this could only end with a tasty snack based on typical local products such as bread, broad beans, ventricina and sausage.
Do you still have doubts about where to eat in Abruzzo?