This week Italian Traditions dedicates his Special to one of the wildest and most unspoiled islands of the Belpaese, a real loner's paradise off the coast of Sicily. This is the wonderful Pantelleria, land emerged of the ancient volcanic origin and of the age-old human history, thanks to its geographical position at the center of the Sicilian Channel that made partaker of all the historical events that took place in the Mediterranean by the Phoenicians until the Unification of Italy.
Pantelleria is an island of about 83 square kilometers, 110 km from Sicily and at 70 Km from Tunisia, arose from ancient landslides of the earth's crust. This volcanic origin is manifested even in the presence of several secondary volcanic phenomena, such as hot springs or fumaroles of steam. It was also reflected in its small mountains: the highest point of the island, for example, the famous Great Mountain with its 836 meters, it was originated by a volcano-tectonic uplift, such as Mount Gibele that, with its 700 meters, is great former volcanic cone covered with forests of oak and pine trees. The geology of Pantelleria, in fact, is very complex, as demonstrated in addition to the reliefs cited the over 40 hills on the territory.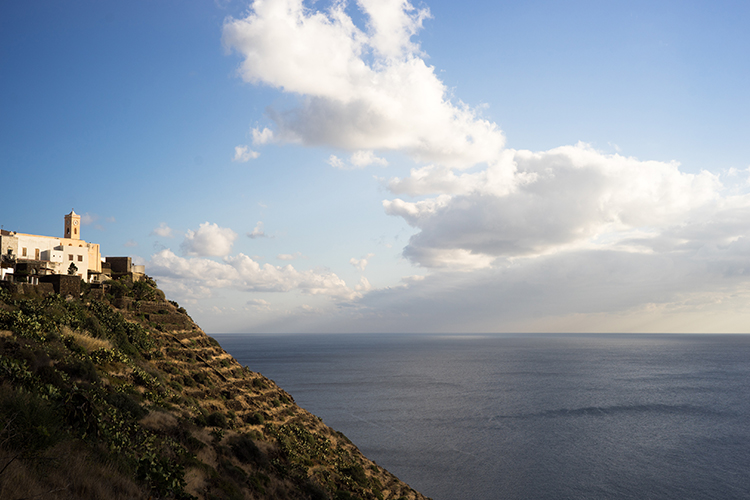 The formation of the island is linked to a complex of volcanic events began about 330,000 years ago, which over the time covered most of the island with a layer of magmatic rock that zeroed the first probable plant colonization. Until about 9,000 years ago other smaller eruptions have occurred. For its geology, today Pantelleria is a place of study by volcanologists and geologists, but also tourists may see the obvious diversity in the geological strata of the cliffs, highlighted by different colors of the rocks.
In addition to its unique geological features, Pantelleria is known for its coves and bays, among the most beautiful in the Mediterranean. The island has a profile that goes from the North side with very low coasts to the south side with hills and cliffs. A paved road runs around the perimeter of the island (about 40 Km) with deviations toward the coast and small dirt paths that reach the bathing places in hidden coves or in the ravines of the coast.
All bathing places in Pantelleria are free of sand, being of volcanic origin, such as the irregular seabed, which also ensure colors and stunning clarity. Finally, the coastal vegetation, composed of rosemary, juniper and helichrysum, along with the famous Zibibbo grapevine terraces, is the backdrop to the stunning scene of an island of unique and wild beauty, a real natural treasure and an ancient haunt of pirates of many legends, and yet another landscaping excellence of the Belpaese.