Lampedusa is an island that is part of the Pelagie Islands in the Mediterranean Sea, closer to Africa than to Italy: of limestone origins, known for its Caribbean beaches, flora, marine fauna and the warm welcome of the islanders, here's what to see to spend a dream weekend!
Lampedusa: the most beautiful beaches
Lampedusa is famous above all for its wonderful beaches, some easily reachable by car or bus and others where there are paths to follow: in some cases, the rescue service is also guaranteed. The advice is to visit some on foot, others instead through a boat trip that will allow you to discover most of the beaches and caves and possibly even book a scuba dive to discover the underwater secrets!
Among the beaches that are definitely worth seeing are:
La spiaggia dei Conigli
Cala Pulcino
Cala Croce
Beach of Rabbits
La spiaggia dei Conigli (the beach of rabbits) di Lampedusa has been included several times in the list of the most beautiful beaches in the world: famous for its reproduction of Caretta caretta turtles, it can be reached by following a moderately demanding path.
In the end, gradually descending towards the beach you will be able to enjoy a unique panorama: between the fine sand and crystal-clear waters, the view will leave you breathless. In front of the beach there is the Isola dei Conigli, which cannot be visited, where rare animal species live including the herring gull and behind it there is a natural underwater arch where it is possible to find sponges, shrimps, scorpion fish and moray eels.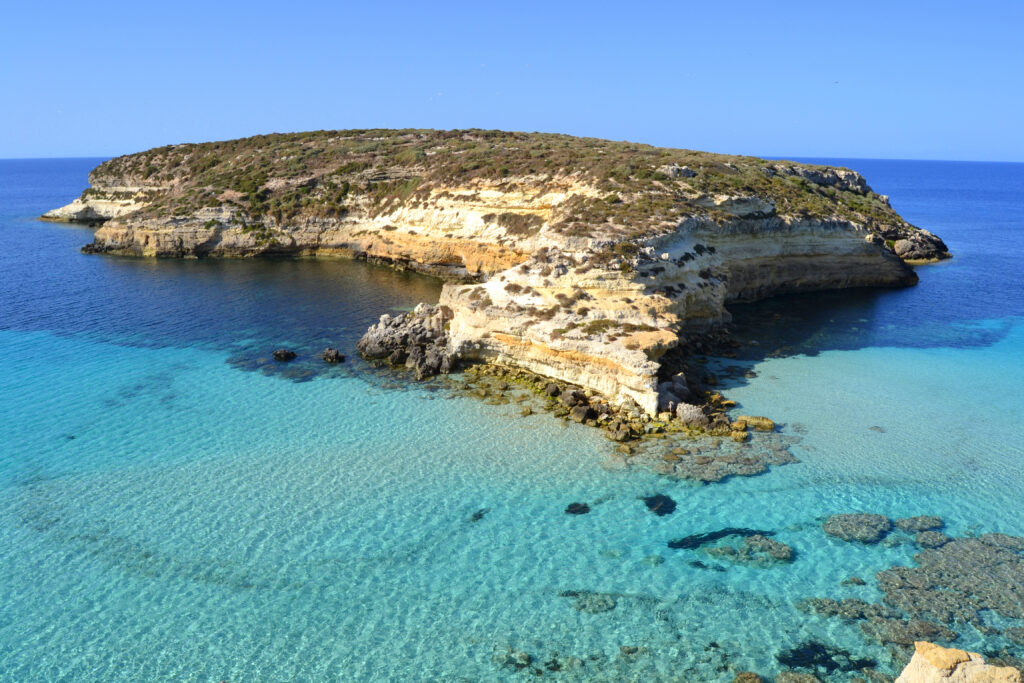 It is good to know that access is limited to a maximum of 300 people, so it is advisable to book in advance; furthermore, in the case of people with disabilities, it is possible to book a transport service to the beach with a jeep.
Cala Pulcino
Cala Pulcino is a beach that is located right next to the aforementioned spieggia dei Conigli: among the numerous caves present, the very fine and white sand, can be reached by land with a fairly demanding path of about 40 minutes, suitable for the most sporty equipped adequately or reachable by sea with excursions by boat or canoe.
Cala Croce
The beach of Cala Croce, characterized by white sand and sea of a thousand colors, is perfect for those seeking relaxation and tranquility even in windy moments of the day, as it is well protected. Just in front of the Cala Croce beach there is Portu 'Ntoni, also ideal for families with children as there are particularly shallow waters.
Lampedusa: between history and nature
In addition to the Caribbean beaches, Lampedusa is an island that never ceases to amaze: there are in fact several enchanting places to visit that have a profound meaning for the locals. Among these, one of the most beautiful is the Sanctuary of Cala Madonna, a small church carved into the rock, immersed in a beautiful natural landscape with several caves. The figure of the hermit of Lampedusa is also linked to the place: legend has it that in an era following the decline of the Eastern Empire around 1452, he exercised both Christian and Muslim worship, a sign of the great tolerance and acceptance of the island since the earliest times.
Furthermore, in the Sanctuary there is also a marble statue dedicated to the Blessed Virgin Mary of Porto Salvo, as a symbol of welcome for sailors arriving in Lampedusa.
About 10 minutes away by car, there is Casa Teresa, one of the largest dammusi in Lampedusa: these are traditional stone houses, now converted into a museum.
For lovers of views, a stop at the Capo Grecale lighthouse is also recommended, in a perfect panoramic position for unforgettable photographs.
Returning to the central area of the island, where there are many traditional souvenir shops and more, one of the most visited attractions by children is the Sea Turtle Rescue Center, run by volunteers. Here it is possible to see several turtles recovered in the sea because they were injured or accidentally caught by fishermen's nets.
For lovers of nature and trekking there is the Forestale, an area where there are several routes, both simple and more complex, where you can hike while enjoying wonderful views of natural landscapes.
In addition, Linosa is easily reachable from Lampedusa: a smaller, uncontaminated island with a wild aspect. Of volcanic origin, with dark cliffs, it enjoys landscapes with prickly pears, paths surrounded by greenery and unique backdrops. Small but characteristic, with colorful houses, there are no museums or monuments but only natural attractions, such as the Faraglioni of Linosa, or the peaks of Monte Vulcano, Monte Rosso and Monte Nero, reachable on foot with paths that can be walked from everyone.
Lampedusa: typical specialties and affordable accommodation
Lampedusa is also famous for its gastronomic specialties: from alternative arancine with seafood or swordfish, to risotto based on fresh fish or pasta with Linosa lentils, pasta with mullet or the typical Asian-African granulated cous cous with fresh Mediterranean fish, up to mackerel, groupers, cuttlefish to finish with typical Sicilian sweets including Cassata, the island's recipes are a real delight for the palate.
For accommodation it is recommended to book in advance and there are several structures, apartments, b&bs, even dog friendly hotels both close to the town and close to the beaches that will satisfy your every need and make your stay in Lampedusa unforgettable!
Cover Image: Elesii.it