After two years of absence because of the epidemic that hit the whole world, finally the regatta of the Befane returns to Venice to enchant all its spectators on the Grand Canal.
It is the number forty-three edition of one of the traditions that most represents the folklore in Venice, although the epiphany is a very popular festival in the whole Veneto region.
In fact, during the night between 5 and 6 January, every year large bonfires are lit and the hags are burned as a sign of good luck for the year just begun.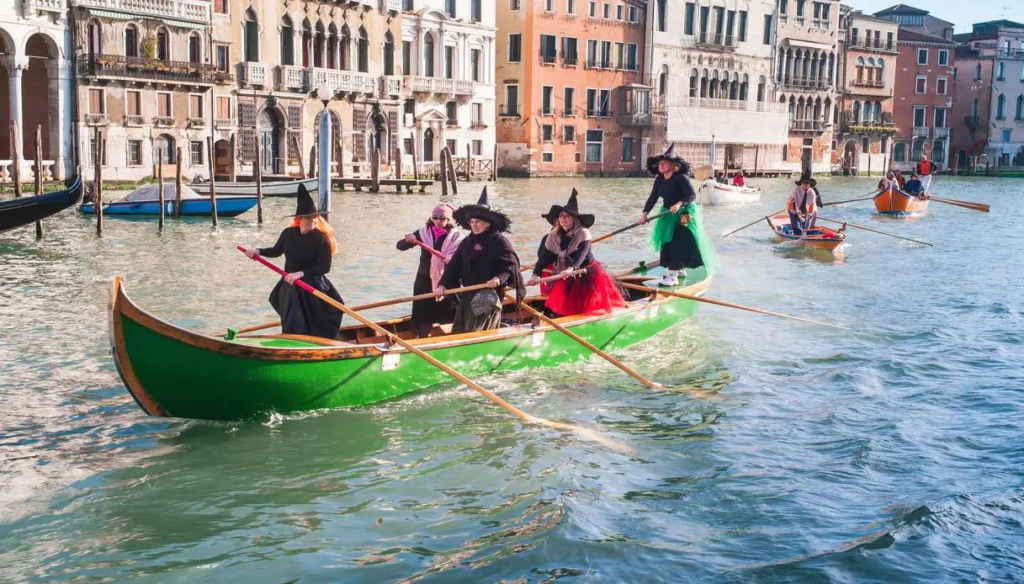 Regatta of the Befane in Venice: history and tradition
The tradition of the regatta of the Befanes was born in 1979 from the ingenious idea of Nino Bianchetto and Enzo Rinaldo, two historical partners of the Real Society Bucintoro Asd rowers who competed in a speed race on the Grand Canal, on the day of the Epiphany.
Since that day, the competition has become a real tradition, expected every year by the inhabitants of Venice but also attracts curious tourists.
Since 1979, five expert rowers compete with oars wearing the clothing typical of the Befana: who arrives first, wins the giant sock (in dialect calza caena), symbol of this competition and hanging under the Rialto Bridge. It is a stocking of the giant Befana, full of sweets and sweets that are then distributed along with the typical galani and vin.
Regatta delle befane 2023: the race
For this special race that is held on the occasion of the feast of the Epiphany, rowers do not use boats usually assigned to men but row on board the "mascarete", boats that are usually reserved for women because they are lighter. And, of course, they are all dressed as "marantenga", that is, as befana.
After two years of stop, the reigning champion confirmed his position in the standings by crossing the finish line during this race of Epiphanies: we are talking about Riccardo Romanelli followed by Antonio Ciccarello in second place, Federico Bianchini in third, Sandro Inchiostro who was fourth and, finally, fifth place Luca Simeone.
A fun race, which attracts many families and children for its spectacular and fun. The competition on the Grand Canal was anticipated, as always, by the water procession of the corporate boats that accompanied the five Befanes competing on the battlefield, also carrying the giant stocking to hang under the bridge of Rialto.
At 11 am the race began: the Befane started from in front of the Palazzo della Banca d'Italia, having behind them the Rialto bridge. In the role of judge of the race, a real myth, symbol of the race of the Epiphany: Palmiro Fongher, winner of twelve editions of the race on the Grand Canal and, at his side, Paolo Levorato in the role of speaker of the race that entertained the audience by telling the competition live.
Copertina: meteoweb