Como, set in the north-east of the Lombardia region and renowned for its famous lake, has been for centuries a prestigious holiday destination frequented by famous people and extremely popular on the international scene. Como is also known as "silk town" and historic residences overlooking the lake are often the setting of high-end fashion shows. 
Villas you cannot miss on Lake Como:
Villa del Balbianello, Lenno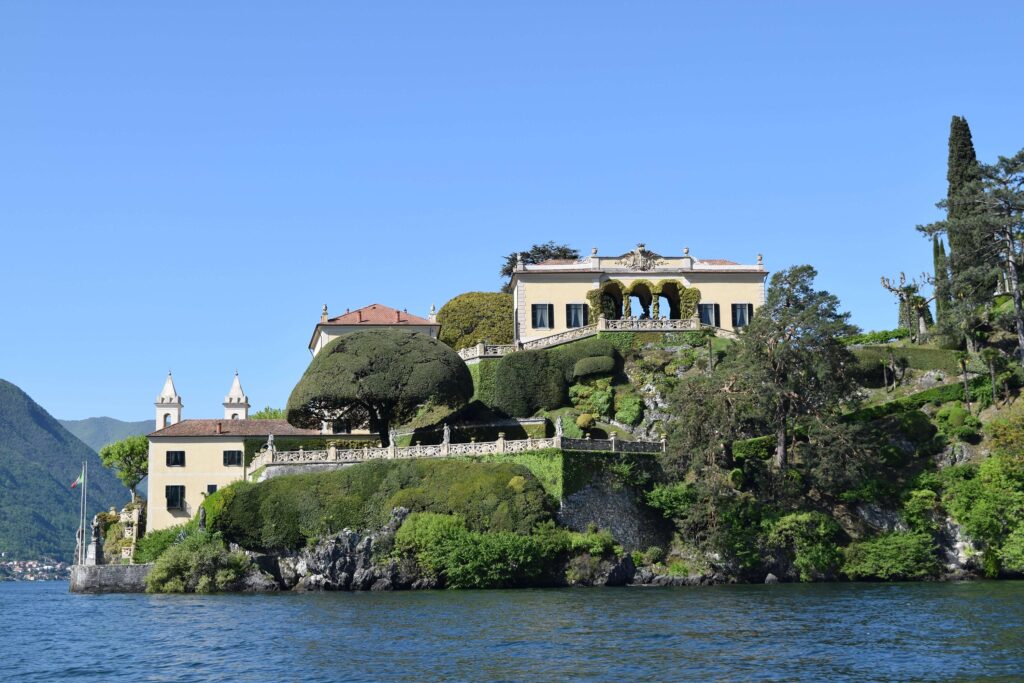 A site part of FAI (Fondo Ambiente Italiano) association and its most visited one in Italy, Villa del Balbianello can boast an elevated position on cape of Lavedo which offers a spectacular view on the Lario and on the green hills that surround it. The "loggia", with its characteristic three arches covered by vines, and the beautiful garden are the perfect romantic setting to have dreamy wedding receptions. Unsurprisingly, it has been often chosen by Hollywood directors as location for famous sagas such as Star Wars and 007. Nothing quite like getting here by boat. 
Villa Carlotta, Tremezzo
Famous for its botanic garden, Villa Carlotta is one of the most historical houses in the area and feature a gorgeous staircase set in a fairytale garden: fountains with waterworks, climbing roses, citrus fruit tunnels and statues by Canova create a true Italian feast. The villa's majestic park has different areas for each type of vegetation it hosts. The most famous is the romantic area which features centuries-old plane trees and a collection of more than 150 types of azaleas. You can also find a tropical area, unfolding around a small grotto, and a stunning fern valley, which even features a stream.  
Villa Melzi, Bellaggio
Not far from the heart of Bellagio, one of the most loved areas of Lake Como, you have the chance to visit the gardens of Villa Melzi, which offer a relaxing path almost 1 km long in the shade of the trees located on the avenue that runs alongside the lake. From the classic little temple one can enjoy the view of one of Lario's widest spots and marvel at centuries-old tree and tropical plants. 
Villa d'Este, Cernobbio
Villa d'Este is one of the most exclusive 5-star hotels in the world, go-to of many stars and even of royals. Richly decorated on the outside, you cannot miss its stairway in mosaic, it is as magnificent in its interiors. The hotel boasts rooms with lake view, a floating pool and tennis courts. Another option is to lounge at the bar right on the lake's shore and enjoy a drink in a one-of-a-kind location, maybe the most beautiful among the luxurious villas on Lake Como.
Villa Olmo, Como
From the town center you can to walk up to the lake and reach the most sumptuous villa of all, villa Olmo. It stands out, in fact, for its size: featuring a characteristic neoclassic façade and its Italian garden enriched with mythological statues. The villa is used as museum and has also a little theater. Villa Olmo is connected to Villa del Grumello and Villa Sucota through a scenic path, called "Chilometro della Conoscenza" (kilometer of knowledge), where it is possible to walk through greenhouses, lemon groves, works of art and learn about Como's silk. Thus, the town offers the chance to know more about this Italian excellence. 
Discovering Como's silk 
The story of this prestigious fabric made in Italy goes back to 1400 when Ludovico Il Moro sensed the economic potential that the silk from orient could have, so he started the production of Serica Lariana, today one of the most sough-after by high fashion brands all over the world.
The market of Como's silk, which stands out for exclusivity and quality, is a pillar of Italy's textile industry. To find out all its secrets, a trip to the Museo della Seta di Como is a must. Here you can marvel at the artistic and technologic evolutions of its productions, starting from the creation of the fabric to the weaving, dyeing and printing.
In the beautiful setting of Villa Sucota, at the Fondazione Antonio Ratti, you can check out an incredible collection of more than 30,000 fabrics and lose yourself in the library completely dedicated to textiles, fashion and visual arts.
To finish it off a trip to Como for some silk accessory shopping in the typical boutiques.