There are so many beautiful Italian cities to visit that it is impossible to list them one by one. Surely, what we can say with some confidence is that many are underestimated with respect to their real artistic and cultural value. The reason is simple, and it resides above all in the fact that Italy is rich in emblazoned art cities that should be visited at least once in a lifetime. We are talking about metropolises like Rome and Milan but also of smaller cities that are also of inestimable value such as Venice or Florence. But what about the villages and small towns which have seemingly been forgotten? The 10 smallest cities in Italy to visit, for example, are a good starting point to enrich your vision of the entire territory.
Italy is an extremely diverse country, which has both large cities and huge metropolises, such as Rome and Milan, which are flanked by towns and small villages. Some of these are really tiny. However, they are not ghost cities, but places with their own character and personality, so interesting to visit! We are talking about places with thirty or even less inhabitants. Obviously a city can be defined as "small" under many points of view: it can be for the extension or for the number of residents. But which are the smallest cities in Italy? Based on what? And above all: which ones deserve a visit?
The 10 smallest cities in Italy for residents and the 10 smallest ones by size
If we want to define "small" a city based on its total number of residents or on the basis of its actual size, we can probably make the Piedmont region a winner. In Piedmont are located the vast majority of the smallest municipalities, most of which are in the mountains or at high altitudes. The municipality with the least inhabitants in Italy is Moncenisio, in Piedmont, with 29 inhabitants. This is followed by Monterone, Lombardy, Briga Alta, Piedmont, Padesina, also in Lombardy, and only subsequently by Ingria, Valmala, Ribordone, Cervatto and Torresina, all located in Piedmont between the provinces of Cuneo and Vercelli. Torresina, which is the relatively larger one, has just reached 51 inhabitants!
The 10 smallest cities in Italy by actual size
But there is more: we have just listed the smallest Municipalities by number of inhabitants, but if we look at the extension the situation is slightly different. In this case, the smallest Italian municipalities by surface are the splendid Atrani on the sea, in the province of Salerno, with its 0,12 square km; Miagliano in Piedmont, Fiorano al Serio in Lombardy, Conca dei Marini, also in Campania and also in the province of Salerno; Roccafiorita, in Sicily; Solza and Masilanico, in Lombardy; San Lorenzo al Mare, in Liguria, and Crosio della Valle and Ferrera di Varese, in Lombardy. Ferrera, which among those listed is the relatively larger municipality, and is just a kilometer and a half square meter.
The smallest municipalities in Italy: which to visit?
Consider, however, that although some of the municipalities listed above are extremely quaint and picturesque, not everyone deserves a visit. Or rather, all of them can be explored if you find yourself passing by, but which are the 10 smallest municipalities in Italy that really deserve a visit? Let's take a look.
Atrani: We have already spoken about Atrani and it definitely deserves a visit. It is a very small town on the Amalfi Coast within walking distance of Amalfi , just 30 minutes away. Its cliff view of the sea always conquers the hearts of visitors.
Alberobello: the main characteristic of the small and picturesque Alberobello, in Puglia, are the famous "trulli", the symbolic dwellings of the place that have become a real cult, also inspiring film directors and screenwriters from all over the world.
Cefalù: Cefalù, very close to Palermo, is extremely picturesque and embodies all the culinary, architectural and artistic culture typical of Sicily. Impossible not to visit.
Sperlonga: the beautiful Sperlonga was home, for many years, to the holiday homes of the Roman emperors of the past, first of all Tiberius, who chose it as the seat of his residence. Surrounded by greenery, Sperlonga looks like a village set on a beautiful rock, to be visited on foot and at leisure.
Saluzzo: Saluzzo is the medieval town located a few minutes drive from Turin. If you are in Piedmont you cannot miss it.
Collodi: The history of Collodi, a few minutes from Florence and Pisa, is closely linked to the tales of the famous fable of Pinocchio. Along its streets you can breathe and touch everything about Pinocchio, Geppetto and the story of the talking cricket. Wooden souvenirs and much more for visitors looking for a souvenir to take home with them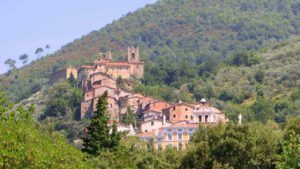 Monte Isola: Mount Isola is a beautiful town located in the middle of Lake Iseo.
Castelmezzano: Castelmezzano is located in Basilicata and, although the panorama that it offers is surreal (since the whole city was literally "carved into the rock", more precisely in the porous stone), it was made famous by the tourist attraction of the flight Of the Angel, a 100 metre funicular that, suspended in the air, crosses it from end to end.
Noto: Beautiful Noto is located in Sicily and is a small jewel, a masterpiece of Baroque art.
Cividale: Cividale del Friuli is one of the most beautiful of the 10 smallest municipalities in Italy, and is located in Friuli Venezia Giulia and is famous for its famous "Devil's Bridge" and for a charming old town.