Jesolo can be considered one of the most famous tourist destinations in Italy. Every year many flock to this lovely town to enjoy the sea and the wide beaches suitable for the whole family and full of attractions.
Moreover, thanks to its square just a few steps from the sea, enjoying a walk through shops, restaurants and ice cream parlours is an excellent alternative to spend the summer evenings. But it does not end here, because between June and September you can admire wonderful sculptures made with sand and every year dedicated to a different theme.
Jesolo and its must-see attractions
Apart from the sea, in this place not far from the wonderful Venice, there are many attractions not to be missed. Jesolo, in fact, also boasts an important story, told through testimonies from the Roman period to be admired in the Cathedral of Santa Maria and the Ancient Walls.
There are also many natural landscapes to discover on a bike, not to miss even the most hidden corner. In addition, in the heart of the city are often organized activities that please young and old and you can attend the International Festival of Sand Sculptures.
A clear sea and wide beaches complete the picture of a place that has everything to give an unforgettable holiday in every respect. Nearby you can visit other very beautiful places, including Chioggia, Padua, Treviso and the wonderful Cavallino Treporti.
There is no shortage of facilities where you can stay. From Hotel, to camping, to Bed & Breakfast, everyone can choose according to their tastes and needs.
Cavallino Treporti and the most beautiful things to see
Cavallino Treporti, in addition to its natural beauty, also boasts a very ancient history dating back to Roman times. Its historical and cultural heritage is truly incredible, starting with the magnificent villages such as Lio Piccolo, to continue with the fortifications and forts. Magnificent also the Lighthouses of Cavallino and Punta Sandy, the square of Cavallino where you can admire the manor house dating back to 600 and the church of Santa Elisabetta. Yet what really leaves you breathless are its landscapes, the sandy expanses and the clear waters of the sea that surrounds the lagoon.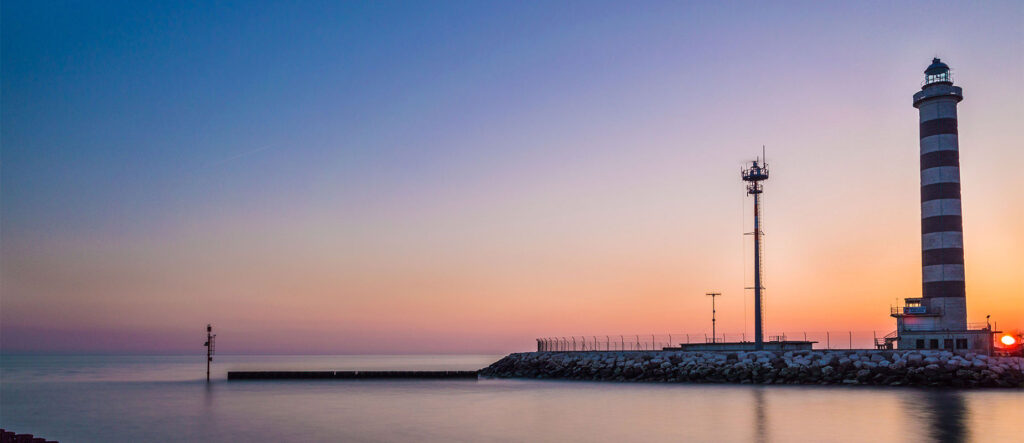 But it does not end here, because moving inland you find yourself immersed in shady pine forests and nature reserves of unparalleled beauty, offering peace and relaxation at 360 degrees. The best way to visit these treasures is to do it on a bicycle, not to miss even the most rare and hidden corner.
Cavallino Treporti and its oasis of peace by the sea
The small Venetian town suspended between the sea and the lagoon is home to one of the most popular beaches for tourists. From Faro di Cavallino to Punta Sabbioni, the shoreline of fine golden sand stretches for 15 kilometers and behind it are well visible dunes and a large pine forest.
This is the ideal place to entertain children in complete safety, thanks to the presence of special spaces, nursey areas and miniclub with entertainment. And for adults there is a wide choice of sports to do on the beach, starting with Nordic walking, to continue with jogging or relax trying Yoga techniques or tai-chi.
There are areas to accommodate on the beach 4-legged friends. The sea here for several years has obtained the recognition Blue Flag.
Jesolo between sea, beach and water parks
Quality and services are the main features that distinguish Jesolo Lido. Ben 15 kilometers of fine beach where you can find all kinds of comfort and fun for children. Attractions of all kinds and music enliven the days of the guests non-stop.
And for those who do not want to give up a bit of sport, there are many activities to try starting from sailing and continuing with beach volleyball, surfing and much more. Bring your 4-legged friends on holiday is not a problem, because there is also a corner of the beach reserved for them and very well organized. Who chooses the Venetian town for his holidays, can not give up to spend a day in the Water Park Caribe Bay.
80 thousand kilometers of fun, adrenaline, sport and relaxation surrounded by palm trees and white Caribbean sand. Do not forget the beautiful sea that this year also got the blue flag.
Jesolo and its gastronomic delights
What could be better than enjoying a seafood dinner by the sea in Jesolo? Among its specialties stands out the broeto, an exquisite fish soup very similar to a stew and among whose ingredients can not miss the white wine vinegar.
Then there are fried sardines enriched with raisins, pine nuts and onions, another typical dish of Veneto to taste. There is no shortage of meat dishes and traditional desserts.
Cover image: Veneto