Among the most enduring couples, original and famous in the world of art, Christo Vladimirov Yavachev and Jeanne-Claude Denat have certainly helped to revolutionize modern art concepts, with their impressive and strongly linked to the landscape works and changes  implemented.
He was young and penniless globetrotter artist, she – ambitious franco-marrocan philosopher, the two met in Paris in 1958, and after the first projects and a son in 1960, they decided to move to America, carrying on as a duo their common artistic project, beginning to produce far-reaching works and intervening directly on buildings or monuments.
Land Art is indeed defined their art, as they implement the interventions on the landscape, changing it though always in a safe way, and usually getting great stage effects. They are especially known for works with fabric, "packing" monuments or stretching out long sheets in natural places.
This time, however, the artist (Jeanne-Claude died in 2009) decided to reinvent itself, proposing right here in the Belpaese the last of his works: the background is suggestive Lake Iseo, which for sixteen days, from 18 June to 3 July, will be dressed in a long iridescent yellow fabric for over 70 thousand square meters. Who will go to the lake basin "will cover in total freedom the pier, in its entire length, without limitations, because there will be only a restricted access or a direction to follow" as explains Christo.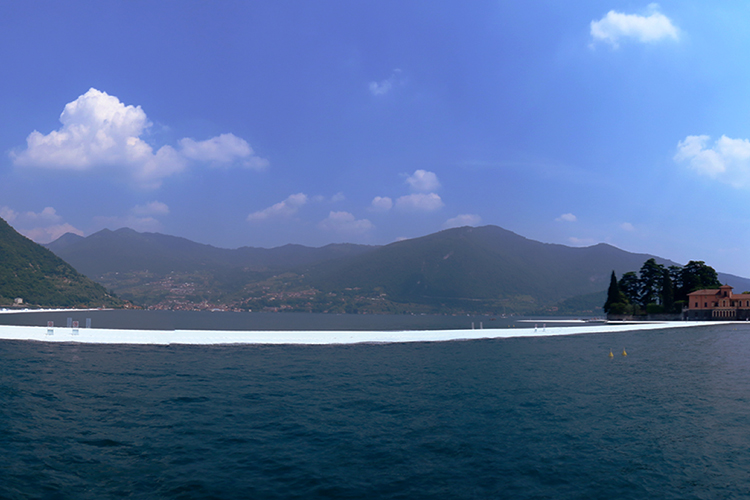 An amazing walkway that extends approximately for 3 km departing from Sulzano to Montisola, the center of the lake, offers an unique scenic effect of this kind, especially to those who observe from above. A connection consists in a modular system of floating pontoons (16 meters wide and 50 cm high), which will allow pedestrians to float on the lake rocked right from the movement of waves.
The work costs about 10 million euro, and like the other artist's projects will be financed by him through the sale of drawings and preliminary sketches. Exciting work, which has already attracted the attention of the masses, an atypical Prom totally sustainable, original and able to integrate seamlessly with the landscape without spoiling, but rather providing visitors rich experience, unique, aesthetically priceless and otherwise unattainable . On the other hand walking at the water, on one of the most beautiful lakes of Italy, from the mainland to reach the shores of one of the most beautiful lakes and large islands of Europe, it is not an everyday thing.