With the arrival of the cold season, it is time also for winter sports. Experts and enthusiasts begin to crowd all the main locations where snow steals the show, starting from the Alps to reach the main peaks of the Apennines. Apart from the renowned destinations in the Alps, in fact, even the central and southern regions of Italy offer extraordinary places for mountain enthusiasts, skiing, snowboarding and sledding.
All these places, besides being true mountain and snow paradises, also represent some splendid destinations from a food and wine, historical and artistic heritage point of view.
Madonna di Campiglio – Trentino Alto Adige
It is one of the most renowned Alpine resorts, with really international appeal. Located at 1550 meters above sea level, between the Brenta Dolomites and the Adamello glacier, Madonna di Campiglio offers over 150 kilometers of slopes, about 50 dedicated to cross-country skiing. It also boasts one of the largest snow parks in Italy. It is included in one of the largest ski areas of the Alps, together with celebrated resorts such as Folgarida, Marilleva, Andalo and Tonale.
Cortina d'Ampezzo – Veneto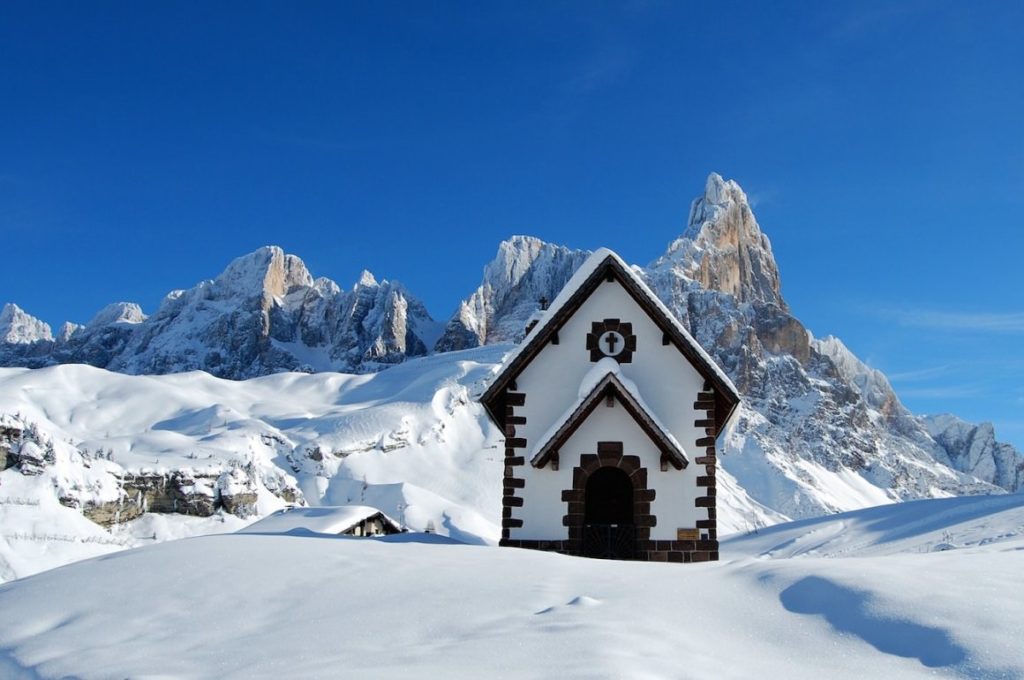 In the heart of the Dolomites, in the province of Belluno, Cortina d'Ampezzo is in all respects a "classic" for Italian winter holidays. Surrounded by peaks reaching a height of 3200 meters and small glaciers, this town boasts, apart from the attractiveness of the snow-covered fields, also a solid culinary tradition, related to the Tyrolean one, and a pedestrian center which is a true shopper's paradise.
Cervinia – Valle d'Aosta
The "pearl" of the Valle d'Aosta, in the municipality of Valtournenche, stands out as one of the paradises of snow and skiing from the month of October. It goes from 1524 meters of Valtournenche, rising up to 3480 of the Plateau Rosa, reaching the summit of Monte Cervino.
Courmayeur – Valle d'Aosta
Located at the foot of Mont Blanc, Courmayeur stands out for its beauty. Over 100 km of slopes are part of the Chécrouit-Val Veny ski area, which skims the characteristic countryside dotted with wooden chalets. For cross-country skiing the locality to be reached is Planpincieux. Do not miss the locally produced cheeses and salamis, along with the meats.
Sestrière – Piedmont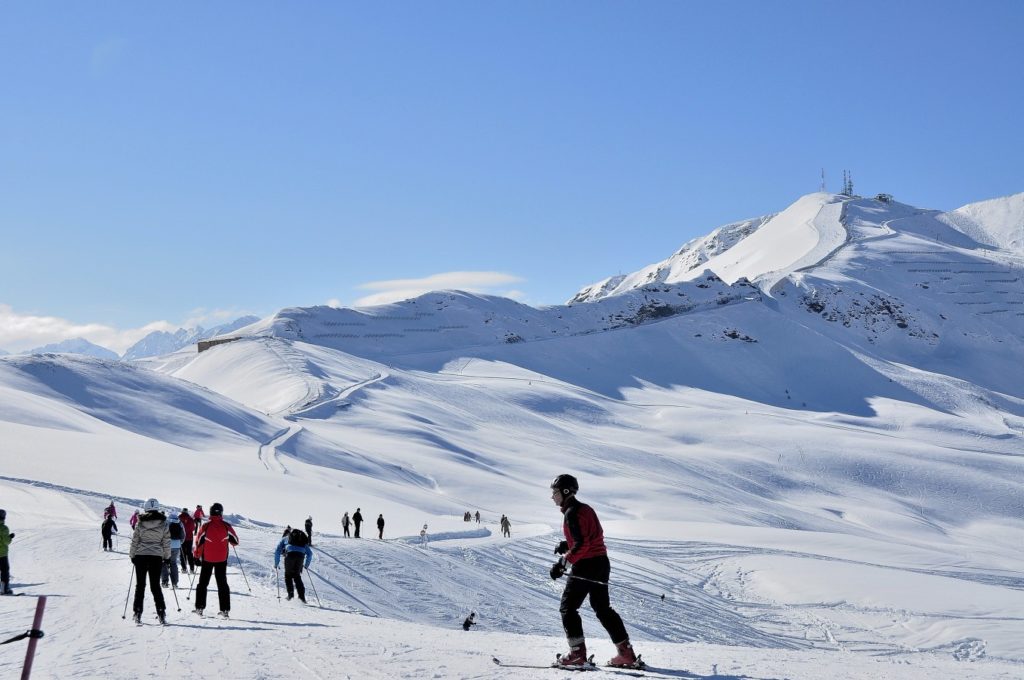 Sestriere is the highest village in Italy. Suspended at an altitude of 2035 meters between Valle di Susa and Val Chisone, it is famous for its slopes of great difficulty, on which some of the most important Olympic medals in the history of alpine skiing have been won.
Livigno – Lombardia
In Valtellina, at a short distance from Bormio and the spa area, Livigno is renowned for winter sports but also for gastronomy. The traditional Valtellina cuisine, in fact, boasts famous dishes such as pizzoccheri and bresaola. The slopes of Livigno, among other things, are particularly appreciated by snowboarders and freestylers.
Roccaraso – Abruzzo
Roccaraso, together with the nearby Barrea, Pescasseroli, Pescocostanzo and Rivisondoli, is part of the largest ski area in central and southern Italy. The most famous ski resorts – Aremogna, Pizzalto and Pratello – are located between 1309 and 2141 meter altitude. The Pratello ski-track ranks high in the list of the Italian Top 10. The track, called "spoon", in fact, is extremely technical, especially in the initial part, where it is classified as "black". Here various international competitions are held. We also recommend an excursion to the nearby Val di Sangro, a destination of undisputed naturalistic charm but also a place of ancient traditions to be discovered.
Abetone – Toscana
Abetone, in the province of Pistoia, is the main ski destination in Tuscany. Its layout is one of the most important in the Apennines, and extends over Mount Gomito, between Val di Luce, Val di Lima, Val dello Scoltenna and Valle del Sestaione. The district offers about 50 km of ski slopes – characterized by different levels of difficulty – surrounded by woods ideal for trekking and MTB routes. The location is very popular on the occasion of the FullMoon Party, that is held (from December to March) on all Saturdays of full moon with aperitif, music and night time descent.
Cimone – Emilia Romagna
One hour from Modena, Monte Cimone is the winter resort par excellence in Emilia. It is equipped with slopes for skiers of all levels. In addition to the tracks for experts, ample availability is offered to beginners and especially to children. In fact, there are schools and parks dedicated to children to encourage their approach to skiing and other winter sports. The district offers 50 km of slopes always kept to the best thanks also to artificial snow systems. Recommended for snowboarding enthusiasts is the snow park at Lago della Ninfa, which hosts 8 structures on 2 km of terracing.
Campitello Matese – Molise
In Molise, Campitello Matese can be reached from the village of San Massimo. Three ski lifts and 4 chairlifts lead to the slopes, which total 40 km. Del Caprio and La Cristallo are the most famous and popular slopes, and can be reached thanks to automatic chair lifts. For snowboarding there is also the Ghost snow park, which includes 3 areas, respectively dedicated to a school camp, intermediate skiers and experts.
Etna
In Sicily, Mount Etna is not only the most famous and important active volcano in Italy. In fact, it is possible to ski down it for a truly unique experience. There are two areas on Mount Etna: Nicolosi, located between 1910 and 2700 meters of height, and Piani di Provenzana – Linguaglossa, between 1800 and 2317 meters. At Nicolosi there are a two-seater chair lift, a 6-seater gondola lift and 3 ski lifts, which reach 3 red slopes and a blue one. In Piani di Provenzana, on the other hand, there are 4 red and 2 blue slopes, reachable with a quad-chair lift and 3 ski lifts. The landscape also varies a lot: from the barren and typically volcanic to the high mountain wooded areas. Apart from the snow, however, you can also appreciate excursions to the extinct craters, the most renowned of which are located in the area of ​​Nicolosi.