"Urbi et Orbi" is a Latin expression that is common in Italy but what does it mean? The saying literally means "to the city (Rome) and the world". In Italian, however, the phrase is also used to speak about something that is made public and announced to everyone. The pope, however, uses it to refer to all "sons and daughters" of the Church. It is used to indicate that the message was not only addressed to the people inside the Basilica but to the whole Catholic community as a way to unify all people of the church scattered around the world via television, radio and other means of communication, in a single phrase.
This phrase used by the pope as a blessing on special occasions such as Christmas, Easter or as a blessing for pilgrims at events such as the Jubilee. The blessing is announced from the central square of the Basilica of Saint Peter at The Vatican. It dates back to the twelfth century during the pontificate of Pope Gregory X. Part of the blessing includes the remission of all temporal sins through the indulgence of the papal blessing.
Below is a part of the text: "May the almighty and merciful Lord grant you indulgence, absolution and the remission of all your sins, a season of true and fruitful penance, a well-disposed heart, amendment of life, the grace and comfort of the Holy Spirit and final perseverance in good works. Amen. And may the blessing of Almighty God, the Father †, and the Son †, and the Holy Spirit †, come down on you and remain with you forever. Amen."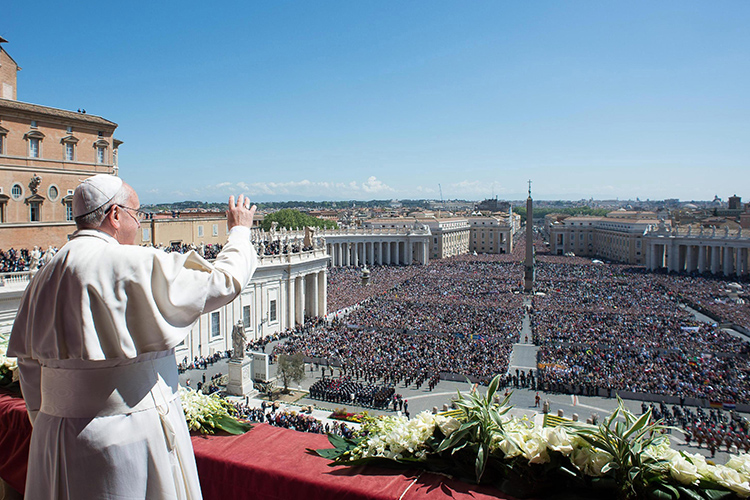 Every year, thousands of Italian and foreign visitors each year choose to travel to Rome for the Easter weekend to attend the Holy Mass held by the Pope on Easter Sunday and spend Easter Monday in the capital. The first religious event not to be missed is the Good Friday procession that takes place every year from about 9 to 11pm at the Coliseum, which is specially lit for this event. Presided by Pope Francis, who celebrates the 'Mass of the Passion' at 5pm also at St. Peter's. The Pope also leads the thousands of faithful gathered in prayer for the entire route of the Via Crucis (stations of the cross). About 80,000-100,000 people gathered at St. Peter's Square last year on Palm Sunday (a procession that ends with the pope riding through the crowd on the pope mobile), among which an abundance of young people, men, women and children from all over the world.
Italian Easter: more than just Easter eggs. Be amazed by the
IT5 of the week
.