An exhibition that is seven exhibitions in one. Yes, you heard right, however paradoxical this statement may be, it is true. In fact, Enessima the original art exposition held at Triennale Di Milano started last November 26th, and goes on until March 6th. It is in the words of the curator Vincenzo de Bellis, "Not an exposition dedicated entirely to Italian art, but rather a quest with an exhibiting format expressed through image, and the images that Italian art itself has transmitted". We at Italian Traditions have gone to see the artwork itself in person. Here's a look at what we've seen!
Taking its name from the work of Giulio Paolini, Ennesima (literally meaning umpteenth in Italian, referring to the length of the seven canvases dating), whose vision is divided, giving life to seven exhibitions that are different from one another, but at the same time linked and in unison. In fact, de Bellis himself explains, that trying to group and compact the history of contemporary art of the Belpaese into a single exhibition would be impossible and maybe even wrong. Instead, by dividing it into seven smaller sub themes, one can be more precise and can take in even better the individual realities that compose the wonderful artwork all together. The numbers themselves are capable of giving you an idea of the event: there's 120 pieces from more than 70 artists active from the 1960s until today, whose work is divided into seven rooms, occupying the entire first floor of the Triennale.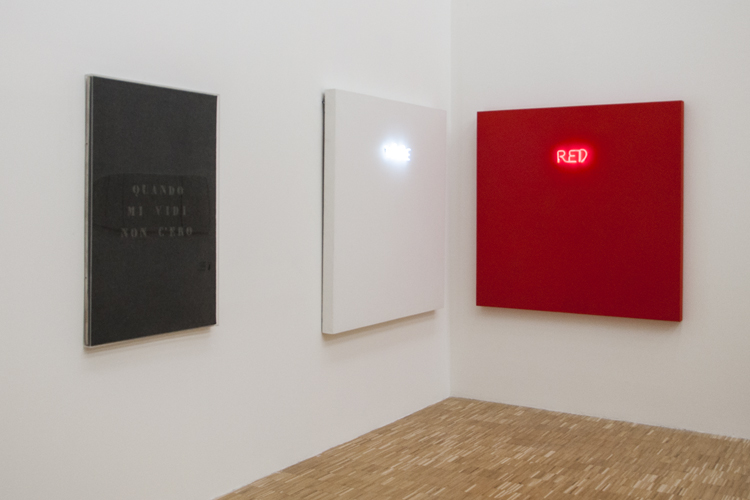 The artwork starts from the collective theme of picture writing, which then continues onto the images of writing, with the famous Group 70 and visual poetry. The next room is dedicated to the staff of Alessandro Pessoli, an Italian from the class of '63 who lives and works in Los Angeles. What really changes up the exhibition is the marvelous section dedicated to performance, which de Bellis has analyzed, concentrating himself on the Italian specifics to this particular form of expression. The fifth room is then dedicated to the theme of documenting archives of Spazio on Via Lazzaro Palazzi. Here you can also find "Avanblob", a real work in the gallery which can only be accessed through a small red door. In the sixth room we find the generational collective with younger artists and works dated to 2015. At this point there is still one seventh of the way to go with yet another exhibition, the "umpteenth" one : this one is dedicated to Site-Specific, with "Temporali" (meaning rain storms) by Alberto Garutti, where the lights are turned on just when lightning strikes on Italy.
Seven attempts, seven tips, seven possible analysis of contemporary Italian art interpretations, thus favoring the fragmentation of perspective rather than a reductive single view, allowing it to approach the vast and often generalized world of Italian contemporary art with a strong vision single and in unison, without ever losing grasp of the thread that binds them.