Born about three years ago as the company turned to tourism, in the province of
Frosinone
, geographically important node of communications of southern Lazio,
Casale Marella
looks like a real piece of paradise. Here, surrounded by greenery and clear air of the hill, in the rare silence, that only the distance from the urban bustle can offer, you can leave your worries. By a short distance from the location you will find the Cyclopean walls, stony heart of Ciociaria, which for thousands of years shake the soul of the beholder because of its history, legends and archaeoastronomy.
Build in the XIX century, the property of Casale Marella has been fully restored maintaining the aesthetics and design of the period: stone walls, large windows and a boxy shape. Today the agritourism includes an elegant swimming pool, areas for relax with sofas and puff, bars, live soft music, slow-food on demand and the meeting room. But also Casale Marella offers to its guests tasting saloons of typical products of the best regional food and wine, which you can enjoy only by appointment. Yes, because the restoration of Casale Merella is intended exclusively to members of the club Marella, who can enjoy the beautiful days of summer even by poolside aperitifs.
All dishes are quality processing what includes the use of quality dairy products guaranteed zero kilometer, such as beef and pork, mozzarella, pasta, fruits and vegetables. You can also estimate a wide range of prices, various types of menus, including vegan, vegetarian and gluten.
The varied range of Casale Marella dishes acts as the sole objective of ensuring a comfortable and complete stay, looked after with very deep passion and professionalism by the qualified staff. The latter is the flagship of the beautiful and challenging agritourism. Not in the background is the proposal of the many wines of origin which can be enjoyed depending on the preferred menu.
At guests arrive in Casale Marella, there are 4 huge bedrooms and 2 suites all furnished with antique rustic furniture and decorated with taste in accordance to the style of the site itself, formerly a patrician's house where stayed for a long time the eminent Cardinal Carlo Marella, which is discussed in several historical texts of political, administrative and social value. The estate, which has hosted music evenings in 70s, 80s, 90s style with theme-dressed bands, organize different parties and events, such as concerts and meetings aimed to leisure and entertainment. At completly disposal of the customer, the staff follows step by step all the steps related to the ceremony and/or event, by assiduously aspects and choices for the wider final satisfaction.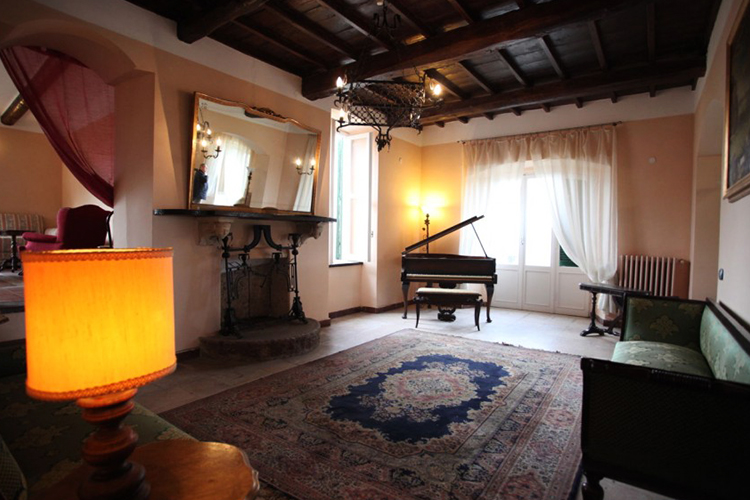 If you love nature but at the same time do not want to miss the fun, good food and cultural tours, this exclusive agritourism in the quiet of the countryside of Lazio it is certainly right for you. Italian Traditions unveiled to you this beautiful agritourism, whose motto seems to be "Silence is relax" for a holiday in the countryside, where refinement blends with the space!