Greve in Chianti is a District in province of Florence, along the Chianti road, and it is one of the most quintessential wine areas in central Italy. The renown wine museum is located here at Greve in Chianti. It was established by a family of local entrepreneurs who have been collecting materials to tell the story and the traditions of this Tuscan, countryside gem. Its founders, Lorenzo and Stefano Bencistà Falorni, are also the owners of Antica Macelleria Falorni and of Le Cantine di Greve in Chianti, places where the pleasure of food and good wine find their best expression.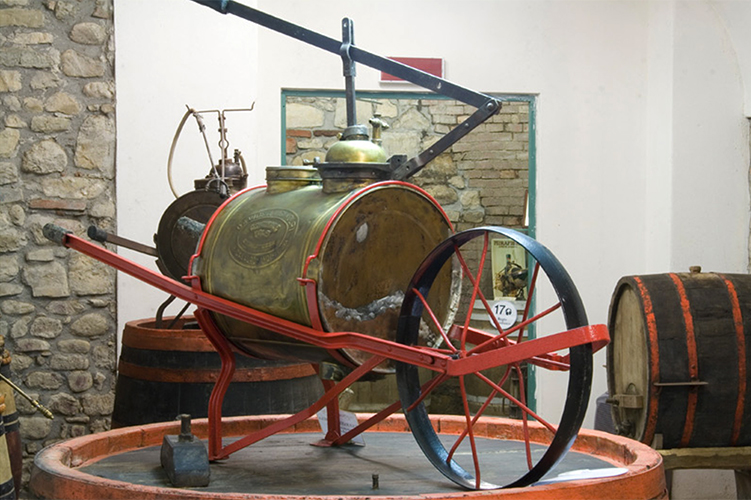 History of Wine Museum
The museum wasn't actually born as a museum, but as a wine cellar, which had great economic importance in Greve in Chinti for decades. Moreover, it contained the place where the basins for the grape harvest were stored, a place of tradition with an economic driving force.
The building was constructed at the end of the Nineteenth century, in 1893, by Ernesto Leproni and has had many different names and owners throughout time. In 1906, it became the Chianti wine producer's union, as wanted by the rich property owners. This can be considered the forefather of the Chianti Classico association. It later became Cantine Mirafiori owned by Alberto Emanuele Guerrieri, count of Mirafiori, son of the king of Italy, Vittorio Emanuele II and a non noble woman, Bela Rosin. In 1919, her grandchildren bought the wine cellars of Greve, used to bottle Chianti produced in Pozzolatico, which was the residence of count Emanuele, their father, owner of Fontanafredda company in Piedmont. The following owners were the Gancia brothers together with SEVA, an Italian-American company owned by the Paternò family. Today it is property of the Bencistà Falorni family, who transformed it in a symbol of the history of wine and its territory.