Hiking enthusiasts should not miss the unique and exciting experience of dog trekking in the company of dogs Siberian Husky. What to know about hiking with the Siberian Huskies?
The passion for Nature and the love for animals come together in a unique experience, that of a hike with a Siberian Husky.
What does Husky trekking mean?
Husky trekking is part of the activity of dog trekking, that is hiking activities accompanied by a trained Husky and harness.
Why the Siberian dog Husky? First of all, the Husky is a dog with a certain vocation for running; which increases the range of activities available in his company (the dog trekking is one of these).
In addition to this, Husky trekking is considered a branch of Sleddog, that is, the sport that involves the sliding on the snow of a sled pulled by dogs of this breed.
In the areas where there is a lack of snow in the hiking trails has developed a revisitation of Sleddog with the creation of an equally unique variant, the Husky trekking.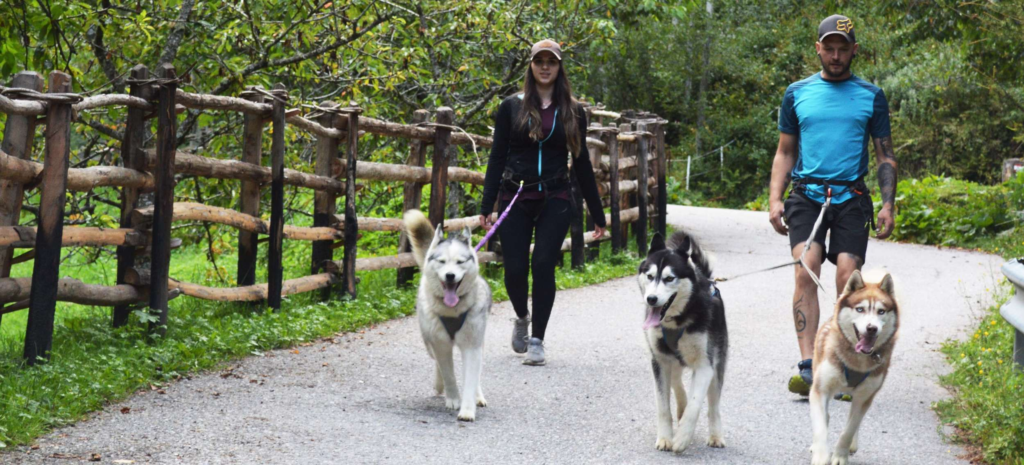 How dog trekking works with Siberian Husky
This kind of dog trekking is a hiking path to be faced with a trained Siberian Husky dog, equipped with harness dog trekking and secured to the hiker via a harness.
The dog's leash during the dog trekking experience is attached to the hiker'sequipment, that is, a waist belt that allows you to give commands and follow the hiking companion along the route.
L'Husky dog trekking is not very different from traditional trekking, but it allows you to understand how to manage a guide dog, learn to keep up with another and build a relationship of trust with the dog.
The reasons to start doing dog trekking with the dog Husky are many, from physical training to mental well-being: you walk for hours through climbs and obstacles; you learn to team up with an adventure companion (in this case on all fours); it enjoys the beneficial effects of contact with nature.
Husky trekking: where to go?
The dog trekking can be practiced in any area of hill and mountain, as long as there is a sleddog club. Some examples? Generally we do dog trekking in Lombardy (Livigno), Veneto (Cansiglio) and Friuli (Tarviso). In fact there are initiatives of dog trekking also in Piedmont, Liguria, Tuscany, , Lazio and Campania.
The presence of a sleddog club operating on the territory is important to have access to routes, Siberian Husky dogs trained, useful information for the excursion and the supervision of qualified guides.
Although there is the "sled dog" par excellence, the Husky trekking is not done in snowy places or in the colder months. The dog trekking is done from spring to autumn, but always during the cooler part of the day and never with a temperature above eighteen degrees.
Who can practice Husky trekking?
The Husky trekking experience is open to everyone, from children from six years up to adults looking for immersive adventures.
Whether they are children, teenagers or adults, however, it allows you to be in contact with both nature and animals. It also allows you to explore unknown places.
It is not a sport to do with very young children because of their inability to tame and then manage an adventure companion that "pulls" and quickly continues along the path.
Copertina: dolomiti