If you are wondering what to see in Piacenza for a short holiday among  art and history and, why not, regional food and wine, read this brief guide it will be very useful. You will be spoilt for choice of what to do in Italy …
We have collected the best of Piacenza's city in 5 stops: Civic Museums of Palazzo Farnese, Piazza Cavalli and Gothic Palace, the Duomo, the Civic Museum of Natural History and finally the Galleria Ricci Oddi that we will explore in further detail. But first a bit of local history…
Among the things to do when traveling in Italy, a visit to Piacenza is a must. This is why: Piacenza, originally Placentia, was a Roman colony founded in 218 BC, with the purpose of guarding the Po from Hannibal's attack.
How to reach Piacenza
If your passion is to visit Italy you will surely know that Piacenza is located on the border with Lombardy and can be reached by the A1 and A2 motorways. For those who decide to leave the car at home and travel by air, they can use the Milan Malpensa or Linate Airport or Giuseppe Verdi Airport in Parma.
Piacenza: Civic Museums of Palazzo Farnese
Once you arrive in the city, we suggest you reach Palazzo Farnese, located in Piazza Cittadella. The building is not only a wonderful example of Roman architecture, but also the home of the Civic Museums. The stark and squared building was built by will of the Duchess of Austria, who between the sixteenth and seventeenth centuries reigned in Piacenza with her husband Ottavio Farnese.
The collection housed inside is very large and boasts works of great value … First of all, Botticelli's "Tondo", the painting depicting the Madonna adoring Jesus Christ, and the "Etruscan Liver", a bronze plate in the shape of a sheep liver, dating from the 2nd and 1st century BC. Our trip of what to do in Italy does not end here …
The Gothic Palace of Piazza Cavalli
Piazza Cavalli, the city's main square, houses the Gothic Palace. It's no doubt a must for those who happen to be here and don't know what to see in Piacenza. The building is made up of a loggia, made of white marble of Verona, and a terracotta structure, full of swallowtail battlements and trifore windows. A good idea for those who want to visit Italy, don't you think?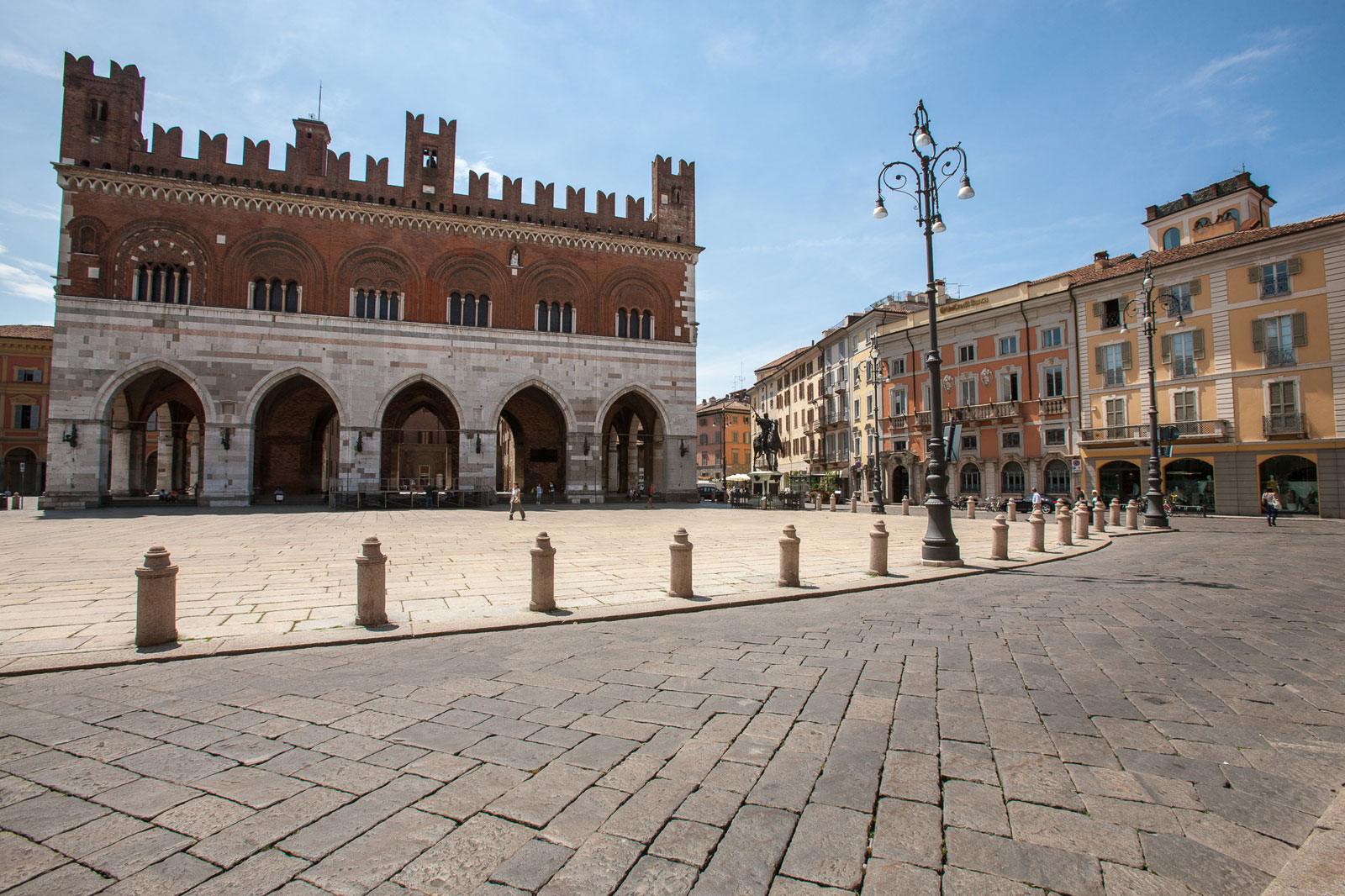 The duomo of Piacenza
The Duomo of the city of Piacenza is located in the square of the same name and is dedicated to the Assumption. The pink marble sandstone makes the exterior of the building rather severe, while inside it is less so thanks to the presence of the wonderful frescoes by:
Camillo Procaccini

 Ludovico Carracci 

 of Guercino.
Descending down through the crypt you reach the Diocesan Museum, Kronos, where "The Book of the Master" is kept, also known as "code 65". It is a precious anthology, dating back to the early twelfth century, in which all ecclesiastical knowledge is enclosed. In fact, this precious manuscript contains a calendar, a book of psalms and numerous texts indispensable to the liturgy.
It is a fundamental find for the entire ecclesiastical world, so much so that it is demanded by scholars and enthusiasts from all over the world. Being an extremely precious object, you can only view it at certain specific times. Amazed at the list of what to do in Italy?
If you liked this article, you will also enjoy this read: Apimell Edition 2017.